We have a range of workspace options for creative businesses across three sites – LCB Depot (a former bus office remodelled as a creative business centre in 2004), Phoenix Square (inside a cinema/cafe-bar/gallery opened in 2009), and Makers' Yard (former hosiery factory/warehouse opened as designer-maker studios in 2013).

For more information about any of our workspace services, and to arrange a viewing, please email info@lcbdepot.co.uk or ring 0116 261 6800. Talk to us about how we might be able to host your creative business.

You can see video tours of inside and outside LCB Depot and Makers' Yard that were made for the Heritage Open Days festival in September 2020.
Workspaces

54 workspaces (offices) at LCB Depot (£15 per sq ft, from £203 to £1998 pcm – 162 to 1598 sq ft)
30 workspaces (offices) at Phoenix (£15 per sq ft, from £192 to £1214 pcm – 155 to 972 sq ft)
10 studios at Makers' Yard including two shared studios (6 and 9), (£12 per sq ft, from £133 to £1320 pcm – from a 98 sq ft bay in a shared studio to 723 sq ft)
Standard let is 2-year rolling lease (LCB Depot & Phoenix) – short term lease options available (minimum one month); or one-year Licence (Makers' Yard)
24/7 access all year round
Managed internet and telephony system, plug in from day one – monthly Internet packages £25 – £81.50 +VAT, download 100Mb – 250Mb, upload 100Mb – 400+Mb
Electricity, telephony, internet, and business rates are charged in addition, if required
All spaces are unfurnished
All our workspaces and studios at LCB Depot, Phoenix and Makers' Yard get 100% small business rates relief because none has a Rateable Value (RV) greater than £12K – meaning you will not pay any business rates for one with us if you only occupy one business property in England [you get 100% relief for a property with an RV of £12K or less; for properties with an RV of £12,001 to £15K, the rate of relief is awarded on a sliding scale decreasing from 100% to 0%]
Frequently Asked Questions

For more info on LCB Depot and Phoenix workspaces, see our Workspaces FAQs

See what a studio at Makers' Yard will include
Creative Industry letting policy

To be eligible for a workspace, Business Lounge membership or Postal Address Service with us, you must be working within the creative industries – see our letting policy.


We welcome self-employed sole traders & freelancers, limited companies, and business partnerships to our workspaces, business lounges and postal address service.

What do we mean by 'creative'? See these creative business categories


As an example, if your business is selling swimwear that's designed and made by other people, we would probably see you as 'sales' rather than as a creative business. However, if you design the swimwear – it's your intellectual property – and you make them yourself or get them made by someone else, and you sell them to customers, we'd see you as a 'creative business'.
Applying

To apply for a space with us, contact us (by email, phone or in person), tell us what your creative business is and what kind of space you're looking for, check what's available, and arrange a viewing with us. We can then email you a link to our application form. The form asks about you and your creative business, for a copy of your most recent audited accounts/bank reference, two trade references, photo ID and proof of address.

If we accept your application and you become a tenant business or business lounge member or postal address client with us, you can use our address as your registered office address.
WORKSPACE AVAILABILITY as of 28th November 2023

LCB DEPOT

£15/sq ft plus VAT
A Block (3 floors) and B Block (5 floors)
31 Rutland Street, Leicester LE1 1RE
2-year lease, renewable, 3 months' notice-to-quit


A208 – 2nd floor, 285.24 sqft (26.5sqm) £356.55 pcm ex VAT
A213– 2nd floor, 208.82 sq ft (19.4 sqm) £261.03 pcm ex VAT
A312 – 3rd floor, 335 sq ft (31 sqm) £418 pcm ex VAT
B103 – 1st floor, 360 sq ft (33.5sqm) £450.74 pcm ex VAT
B302 – 3rd floor, 341.22 sq ft (31.7sqm) £426.52 pcm ex VAT
B402 – 4th floor, 255.10 sq ft (23.7sqm) £318.988 pcm ex VAT
B403 – 4th floor, 258.33 sq ft (24sqm) £322.92 pcm ex VAT
B503– 5th floor, 258.57 sq ft (23.84 sqm) £320.71 pcm ex VAT

2 desks in our Business Lounge – £75 each pcm ex VAT

PHOENIX SQUARE WORKSPACES

£15/sq ft plus VAT
on 1st, 2nd and 3rd floors inside the Phoenix cinema/gallery/café-bar building
4 Midland Street, Leicester LE1 1TG
2 year lease, renewable, 3 months' notice-to-quit

WS6 – 1st floor, 165.23 sq ft (15.35 sqm) £206.53 pcm ex VAT
WS16 – 2nd floor, 228 sq ft (21.21sqm) £285.38 pcm ex VAT
WS 27 – 3rd floor, 228 sq ft (21.21sqm) £285.38 pcm ex VAT

1 desk in our Business Lounge – £75 each pcm ex VAT

MAKERS' YARD

Location What Three Words

studios for artists and designer-makers
Studios £12/sq ft plus VAT | bays in studios £133.75 pcm each
82-86 Rutland Street, Leicester LE1 1SB
(Up to) 1 year Occupational Licence, renewable, 3 months' notice-to-quit


Studio 9 – 1st Floor- 1 bay available

a 'bay' is approx 3.8M x 2.4M (9.2 sq M) / approx 13 ft x 8 ft (98 sq ft)

See what taking a studio at Makers' Yard will include
Flexible working options

Business Lounge Membership

Our Business Lounge Membership is for creatives that want to plug into a creative professional community for just £75 per person per month (plus VAT).

24/7 access to a shared business lounge environment in either LCB Depot (A2.11) or Phoenix (WS17) – not both
one-year rolling monthly contract with 30 days notice to quit, renewable
furnished room with tables, chairs and soft seating
lockable storage on site
now includes postal address service (see below) as part of package
Wifi included free, or a secure broadband line can be arranged
communal internal only phone in room for receiving incoming calls or to call within the building. An individual phone line can also be installed.
on-site cafe-bar at both sites and cinema at Phoenix

If you would like to view either business lounge, please email info@lcbdepot.co.uk or ring 0116 261 6800.


Business Lounge spaces – 28 October 2022

We currently have two space in the LCB Depot Business Lounge, and one space in our Phoenix Business Lounge.
Postal Address Service

For creatives on the go, our postal address service enables a creative business or individual to join the LCB Depot community without having the commitment of renting a workspace. This package costs £25 a month / £250 per year (including VAT) and includes:

Use of either LCB Depot or Phoenix (not both) as a postal address for your incoming mail
Pick up your mail Monday to Friday 9am – 5pm (LCB Depot); 12pm-5pm (Phoenix)
You can phone/email us to check if you have mail here
Discounted rates on hire of our meeting rooms, including our Print Room – a small meeting room on the ground floor of LCB in our cafe/bar area at £6 per hour + VAT – Monday to Friday
As a postal address client with us, you can use our address as your registered office address.

The Postal Address Service is included in Business Lounge membership (see above).

To apply for a Business Lounge Membership or Postal Address service, contact us on 0116 261 6800 or email info@lcbdepot.co.uk and we'll email you a link to our application form.
Take a 360° tour of inside Studio 9 before it was subdivided, in the photo below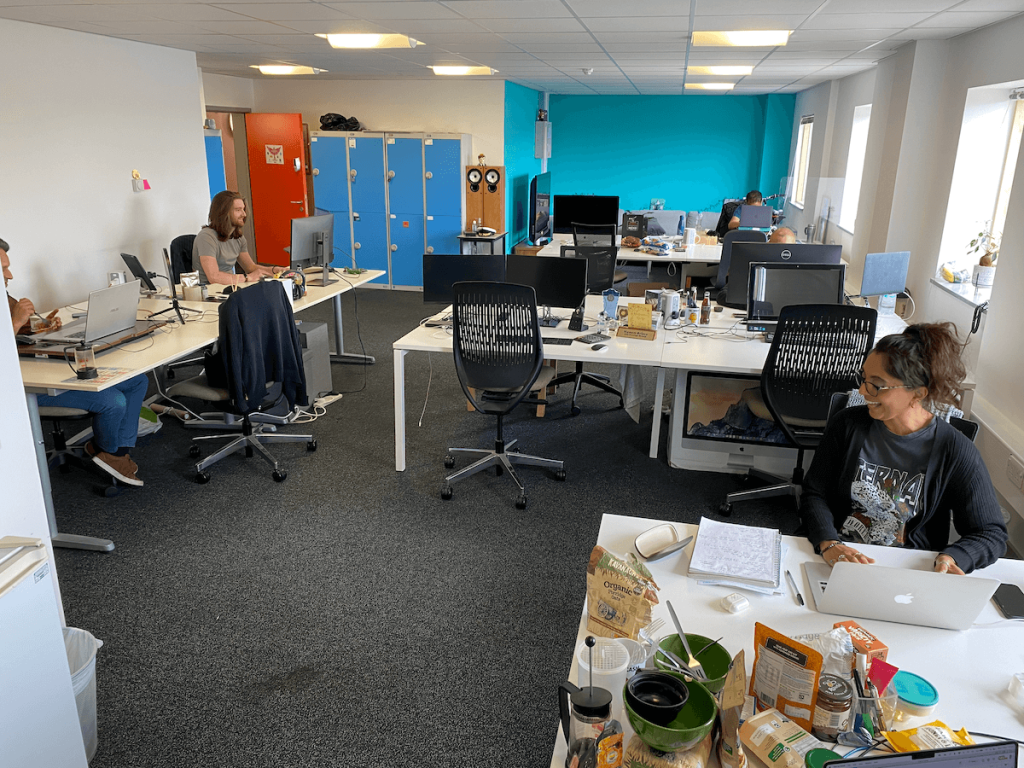 ---
Other managed workspaces in Leicester

Leicester City Council has a range of commercial properties for sale and to let including other workspaces it manages in the city – at Beaumont Enterprise Centre, Dock, Gresham Works, Leicester Business Centre, Leicester Food Park, Linwood Workshops, and Vulcan House.

Co-working spaces, creative space and groups in Leicester include Leicester Startups Coworking, Firebug, the DMU Innovation Centre, Regus, and – in the future – Pilot House.

Gresham Works is a new city centre hub for serviced offices, flexible coworking and meeting spaces, that opened in February 2022 in the former Fenwicks department store building in Market Street, Leicester.
Support for Leicestershire/creative businesses

Leicester Startups is a community for existing & aspiring tech entrepreneurs as well as supporting businesses and organisations. Sign up for its news and events digest.


Creative Leicestershire offers business support for small arts, design & media enterprises in Leicester, Leicestershire and Rutland.

Click here to go to the LLEP Business Growth Hub for info on starting/growing a business in the Leicester/shire area.