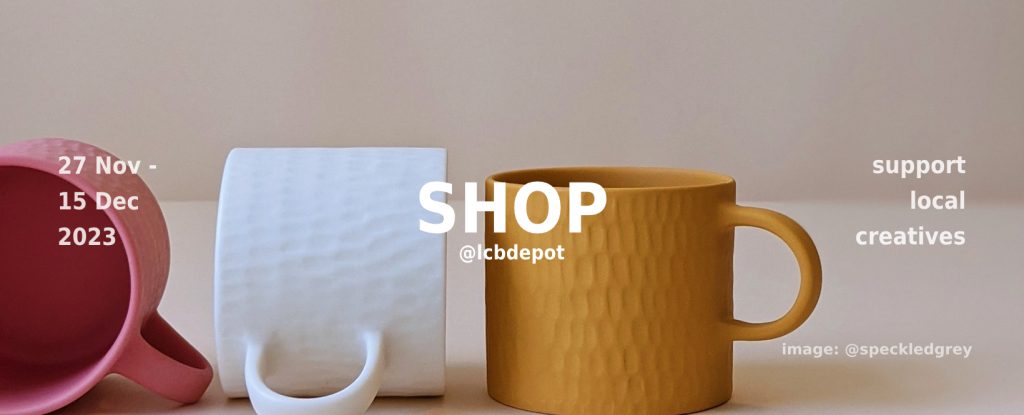 Current season: Shop 2023 November 27th – December 15th 
CREATIVE ENTERPRISE PROGRAMME
LCB Depot's programme highlights a different type of creativity every month with exhibitions and events run by, for and with the city's creative communities.
Artists, designers and makers from our workspaces, and those based in Leicester/shire and inter/nationally, take over our spaces and hold discussions, run workshops, exhibit and sell work, and more. If you want to get involved look out for our open calls on social media.
See our programme pages below to see the latest work from the the creative industries we explore throughout the year.
#sound music technology, sound, generative, 2021, 2022, September 2023
#design architecture, interior, product and furniture design October 2021, 2022, 2023
#art visual art, sculpture, video and digital art November 2020, 2021, 2022, 2023
#graphics illustration, animation, motion graphics, branding, typography, Jan 2021, 2022, Dec 2022
#shop painting, art, ceramics Dec 2023
#digital art, design, VR, AR, Gaming June 2020, Feb 2021, December 2021 Jan 2023
#performance drama, dance, music, comedy Feb 2022 2023 2024
#photography new for 2024
#screen (previously including photography) film, video, TV, and online video March 2020, 2021, 2022, 2023
#fashion contour, footwear & fashion design, April 2020, 2021, 2022, 2023
#craft ceramics, glass, metalwork, woodwork, textiles, jewellery May 2020, May 2021, 2022, 2023
If you're looking to exhibit with us join our Open Call mailing list or keep your eyes on our social media for our Open Calls for each season
You don't have to be making work specifically in each of the sectors, if it's related to the theme in some way then that's also good- if you dance about architecture we can potentially include that in October's programme, for example.
We're also up for hosting events– you can send your ideas for them through the open call too.
SUMMER EXHIBITIONS
Over the summer we host a variety of the city's festivals as well as special exhibitions and solo shows.
Previous exhibitions include
2023 LCB Summer Exhibitions
2022 Being Here : Re Imagined | SPEC 3 | Kendrick Snodin : The Prism of Memory
2021 Alternative Degree Show | This Machine Is Black | Arabesque | Inaquien
DESIGN SEASON
Design Season is a festival of design that occurs every October across the city showcasing leading designers from all fields based in Leicester and beyond. Find out more at the Design Season site. At LCB Depot we focus on architecture, interior, product and furniture design.
The 2020 edition featured our Design Showcase exhibition that brought together work from different design disciplines.
LCB SHOWCASE WINNERS
Every year LCB Depot awards three artists from Leicester Museums and Art Gallery's Open exhibition a year-long exhibition in our meeting rooms. Currently on show are the artists selected from the 2021/22 Open 33 exhibition – Elisa Panerai in our Garden Room; and George Sfougaras in our Courtyard Room. Olivier Leger is exhibiting in the cafe space from June 6th – the end of July 2023. Previous winner Nick Linnett remains in our Old Gallery room.
Note: the rooms maybe in use so please get in touch to arrange a viewing on 01162616800 or info@lcbdepot.co.uk
Previous winners include for Open 32 – Nick Linnett,Sarah Park, James R Root.
THE PRINT ROOM
Leicester Print Workshop take over our Print room with exhibitions from their members.
Landscapes by Emma Fitzpatrick, to 23rd August 2023
Note: the room maybe in use so please get in touch to arrange a viewing on 01162616800 or info@lcbdepot.co.uk
EXHIBITIONS AND OPPORTUNITIES ELSEWHERE

See a list of other local exhibition venues here and at Creative Leicestershire
Find Art Workers (technicians, photographers, writers, etc) via CVAN Arts Worker Directory
See the art groups, clubs and societies supported by Leicestershire Art Alliance
You can sign up to get Creative Leicestershire's monthly bulletin
You can also find out about current local exhibitions via our Elsewhere highlight on instagram