CONTACT US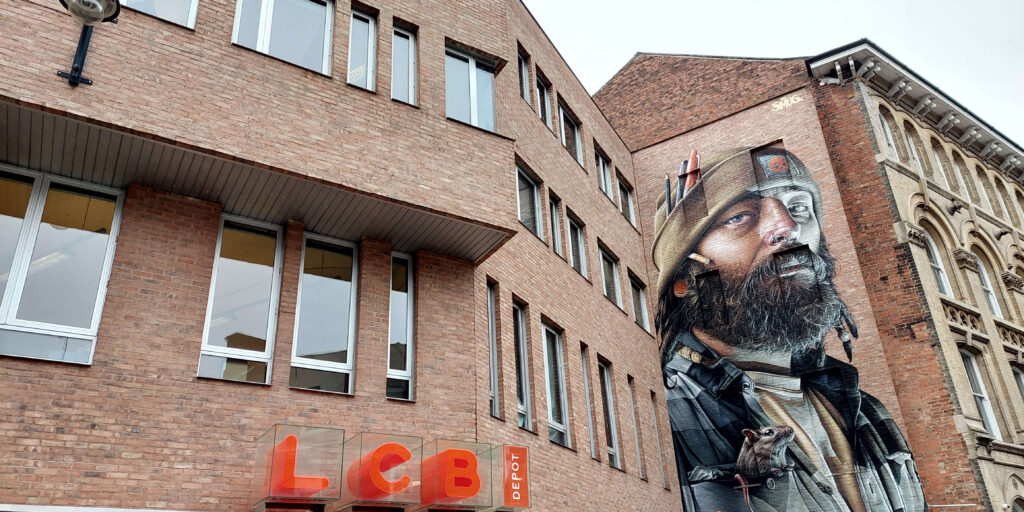 General Enquiries
For all enquiries, please contact:
LCB Depot
31 Rutland Street, Leicester LE1 1RE
Email info@lcbdepot.co.uk | Tel 0116 261 6800
Twitter
Facebook
Instagram
LinkedIn
YouTube 
The 2023 LCB team is:

Workspace Development Manager – James Burkmar
Administration and Operations Manager – Paul Guyan
Customer Service Officer – Sue Worwood
Creative Programme Manager – Chris Slowe
Customer Service Officer & Creative Programme Support – Niamh Synclere 
LCB Depot Cleaner – Joseph Aliki
Caretaker – Alec Wells
Acting Premises Officer – Tom Reynolds
FIND US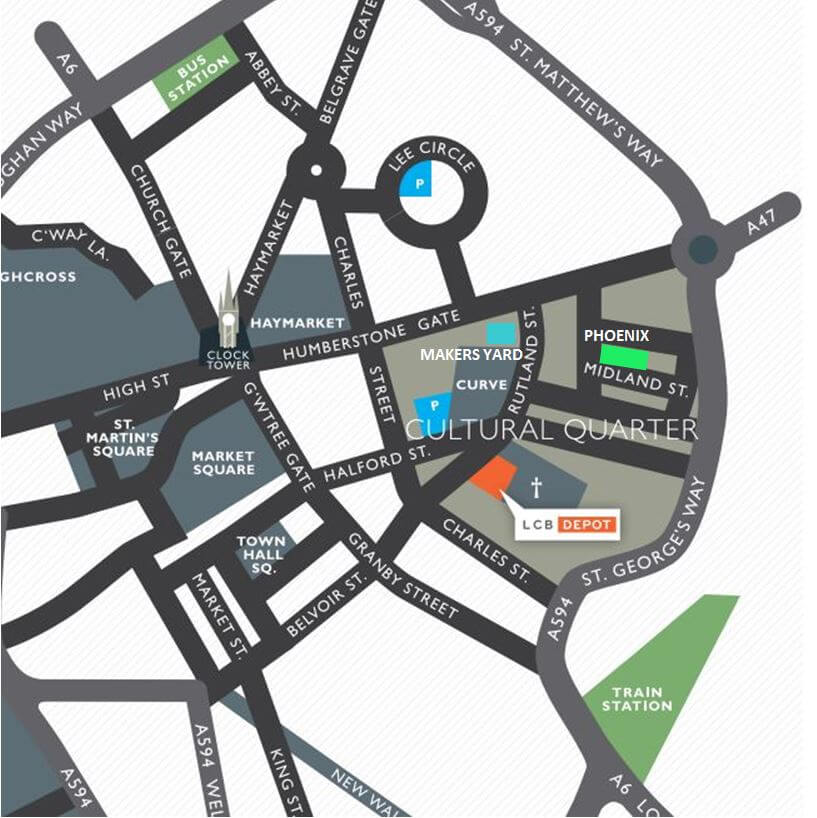 Directions : Click here to find LCB Depot on Google Maps. For more info on visiting Leicester, and a city centre map, see the Visit Leicester website.
what3words find our front door on what3words at ///deny.safety.unrealistic
By Car

Set your Satnav to our postcode LE1 1RE, or to LE1 1TQ to find the NCP Rutland Centre car park in Halford Street (see Parking below).

Driving

Rutland Street is in Leicester's Cultural Quarter, just inside the east edge of the inner ring road, the A594 St George's Way


(A) From the St George's Retail Park roundabout where the inner ring road meets the A47 , turn into Humberstone Gate, carry on until Sainsbury's is on your right then turn left into Yeoman Street between The Old Black Lion pub and Subway. [If you miss this turn, just carry on up to the lights and turn left into Charles Street between the green Cash Shop on your left and the Tegtat Turkish bakery & coffee shop on your right, then turn left into Yeoman Lane – see next paragraph].

Yeoman Street runs into Halford Street where you turn left (only) and then immediately right into Wigston Street (past Manhattan cafe/bar on your left) to Rutland Street and our main entrance in front of you. You can't park here but you can try a nifty reverse and drop off/pick up.


[There are now bollards across the road that stop vehicle traffic from going beyond the NCP car park and past Curve and round past Orton Square.]

(B) If you're driving south along Charles Street, away from the Haymarket Bus Station towards the train station, there's no left turn into Rutland Street – you need to turn left two streets before that into the narrow, easy-to-miss Yeoman Lane between Everyday Loans (the grey, 14-floor tower block – the tallest on Charles Street) and William Hill, turn right at the end into Yeoman Street, follow the road round to the left into Halford Street then

(1) drive up to the NCP car park on your left just before Curve to park there, or

(2) turn immediately right into Wigston Street and up to Rutland Street to our main entrance in front of you (for quick drop-off or pickup, reverse niftily back along Rutland Street); or to get to our rear courtyard sweep right past our main entrance on your left and turn left before the lights into Colton Street to get to our rear courtyard gates 30m along on your left

(C) From the south go past the train station on London Road (A6) on your right and turn left just past the Art-Deco Blunts Shoes building into Charles Street. At the lights filter right and turn into Rutland Street, (between The Ale Wagon pub and Taylors's Property Services), then

(1) To park in the NCP Rutland Centre, take the first left turn into Yeoman Street and turn right into Halford Street – you'll see the yellow NCP car park entrance on your left. Once parked, come back across Wigston Street to our main entrance; or

(2) To get to our rear courtyard gates, turn immediately right from Rutland Street after 10 metres, round past the Ale Wagon into the one-way Colton Street. Call 0116 261 6800 when you arrive to ask us to open the gates for you. Please park carefully.

Check local roadworks, closures and incidents at Leicester Roadworks and BBC Leicester.
By train – a five-minute walk from Leicester train station

Turn right out of the station onto London Road and at the Pelican crossing go over St Georges Way into Granby Street – the art-deco Blunts Shoes building is on your right. Just past the Mercure Grand Hotel on your left, turn right into Rutland Street between Tesco Express and Ladbrokes and cross over Charles Street. (The 5-storey, cream-coloured City Hall, home of Leicester City Council, is on your left). Carry on along Rutland Street past the side of the Ale Wagon pub (Johals letting agency is on the opposite corner) and across the end of Colton Street, towards the former 1930s Odeon cinema that's now Athena – we're before you get to Athena, on the right, with big orange perspex cubes above our sliding glass door at number 31.
By bus

Park & Ride:

Leicester has three full-time Park & Ride sites, now running electric buses:

103 Meynells Gorse – at the A47/B5380 Braunstone Crossroads junction on Hinckley Road, west of the city, at LE3 3LF
203 Enderby – off the B4114, opposite the police HQ, south west of the city, at LE19 2AB
303 Birstall – off the A6 towards Loughborough, just south of its junction with the A46, north of the city, at LE4 4NP

The 103 & 203 buses stop at St Nicholas Circle (Jubilee Square, at the top of the High Street); the 303 stops at Haymarket Bus Station/Causeway Lane, both within 10-15 minutes walk away.

See more Leicester Park & Ride info

City buses: Most city centre bus stops, the Haymarket bus station, and the new St Margaret's bus station, are within 10 minutes' walk of LCB Depot. Bus maps showing routes, services and stops are on the Leicester City Council website. For bus timetables, routes and travel planning contact Traveline on 0871 200 2233 or visit the Traveline website
On foot/ bike

If you're in the city centre, follow the black signposts to Curve and Phoenix Square. We're just to the east of Charles Street. Find us at the back of the grey Ramada Encore hotel, and behind Chutney Ivy restaurant. We're on Rutland Street, halfway between the Ale Wagon pub and the Athena banqueting venue…look for the big orange perspex cubes above our door!

We have cycle racks in our courtyard at the rear of our café/bar. For members of the wider community, we are partnered with Hudjo, who provide safe cycle spaces across the country. For our LCB business tenants, we have a lockable cycle store.
We have no general onsite parking, but parking options in the area include:
Parking NCP/ multistorey

NCP Rutland Centre 24/7multi-storey, Halford Street LE1 1TQ 526 spaces, 17 disabled bays 1.93m max height

NCP Lee Circle, 24/7 multi-storey, Lee Circle LE1 3RE, 1070 spaces, 4 disabled bays, 1.93m max height


NCP Discount LCB Depot has a partnership with NCP that allows our tenant businesses and visitors 24-hour parking for £7.95 at the multistorey NCP Rutland Centre (photo above – just across the road from LCB Depot at Halford Street LE1 1UT). Stamp your NCP ticket in the little blue machine by Grays counter to get the discounted rate (pay at the car park, not LCB, card only, no cash). The standard parking fee for 2-3 hours is more than this discounted rate (see below).

Standard NCP Rutland Centre on-the-day parking charges are, at April 2022 : up to 1 hour £2.95 / 1-2 hours £5.90 / 2-3 hours £8.85 / 3-4 hours £11.80 / 4-5 hours £14.75 / 5-6 hours £17.70 / 6-7 hours £20.65 / 7-8 hours £23.60 / 8-24 hours £24.95 / evening rate 5pm-2am £6.95.

Using the NCP ParkPass App or season ticket gives a lower price.

A six-minute walk away, nearby Lee Circle NCP Car Park at Lee Circle LE1 3RE (photo above) charges £3.95 for 2-24 hours inside the multistorey (and 1 hour £1.95, 1-2 hours £3.90).

Different charges apply in its outside ground floor pay & display car park : 1 hr £1.95 / 1-2 hrs £3.90 / 2-3 hrs £5.85 / 3-4 hrs £7.80 / 4-24 hrs £9.45. 60 spaces, no disabled bays.

Walk away from Lee Circle down Hill Street (it's only 6 inches higher at one end than the other!), cross over Humberstone Gate, go down Yeoman Street between Subway and the Old Black Lion Pub (now Skandals Bar) towards Chutney Ivy restaurant, go left and along the front of the restaurant then right down Wigston Street to our main entrance – you'll see a big painted beardy fella with a small creature in his top pocket on the wall in front of you.


Read about Lee Circle : the Auto-Magic Car Park – one of the oldest multi-storey car parks in Europe, at the Story of Leicester website.
City centre on-street meter parking 

Charges apply Monday to Saturday from 6am to 6.00pm, and on Bank Holidays and Sundays in some streets – check the prices, times and days on the meter you use.

Monday to Saturday £1 for 1 hour, £3 for up to 2 hours, with a 2-hour maximum stay (or £2 for up to 3 hours in some streets)

On Bank Holidays parking costs £1 for up to 3 hours maximum in central areas, or is free in others

On Sundays parking is free in most streets (or £1 for up to 3 hours in others).

Click here for more info on parking in Leicester city centre.


Our secure rear courtyard – accessible from Colton Street – offers parking for disabled visitors, and short-term loading / unloading for our tenants and visiting contractors.

There is a small outdoor car park in Yeoman Street, the NCP Rutland Centre Pay & Display Car Park. Charges are £2.45 per hour, £26.95 for 24 hours. 35 spaces, no disabled bays.


November 2022 update : the pay and display council car park will be reopening on December 17th. A pay and display car park is available next to Phoenix (entrance on Burton Street LE1 1TE). Parking costs £1 (up to one hour), £3 (up to 3 hours), £4 (up to 4 hours), £6 (up to 6 hours), £8 (up to 9 hours) and £9 (up to 12 hours), between 6am and 5pm Monday to Saturday. Evening parking here Mon-Sat 5pm to 6am costs a flat Night Owl rate of £2 ; on Sundays and Bank Holidays there is a £1 charge and a maximum stay of 4 hours.


There is a 40-space Pay & Display car park in Queen Street behind Athena (enter through the old Leicestershire Butchers Hide, Skin & Fat Company arch) charging (for example) £1.90 for 3 hours and £4.60 for 6 hours 6.30am-6.30pm, and £2.50 after 6.30pm, Monday to Sunday.
Electric car charging points near LCB Depot

Enter our postcode LE1 1RE to find the nearest electric car charging points at Carwow
Staying over? 

Our nearest hotel is the Ramada Encore, just a minute's walk away at the junction of Charles Street and Halford Street. Within a quarter of a mile are The Grand Hotel, Premier Inn and Ibis

Check out more Leicester hotels
Events at LCB Depot

LCB Depot aims to create a stimulating and interesting programme of events to enrich the cultural and entertainment offer of Leicester's Cultural Quarter, in conjunction and in sympathy with the local community of residents, businesses and visitors. We support the work of BID Leicester in promoting the evening and night time economy of the city centre to make it a vibrant destination for dining, entertainment and culture.

If you have concerns about any aspect of our events, such as noise from music or crowds, please contact our designated premises supervisor on 0116 253 3400.

See architects Ash Sakula's design brochure for LCB Depot, which opened in 2004 on the site of a former bus admin office. Watch the video LCB 10 – a celebration of our tenth anniversary in 2014.