Exhibitions in Lightbox and the cafe-bar at LCB Depot complementing the 13th UK Taiko Festival in Leicester 5-7 July.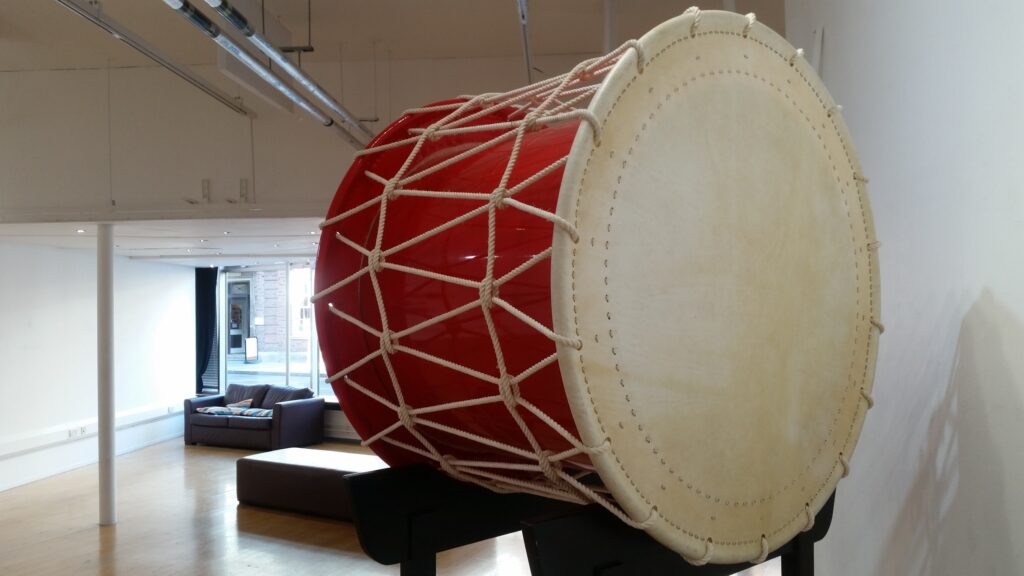 Time and Space between the Drum is an exhibition curated and created by husband and wife team Maxwell and Finola Thomas, artists and owners of Ridgeway Studios Bristol. The installation, inspired by Taiko, is a metaphysical immersive exploration of sound, movement, tension and the natural world. The exhibition will run in Lightbox from Wednesday 3rd July through till Saturday 13th July and has been commissioned by Bullfrog Arts specifically in celebration of the Taiko festival.
A photographic exhibition will also be on display in the cafe-bar which has been created and curated by Juliet Whitfield and Kate Taylor from Bullfrog Arts. Bullfrog are keen advocates of the healing benefits of Taiko Drumming and the photos show a wide range of Bullfrog Taiko projects.
You can also see Taiko drums in our B Block display cases, viewable from our rear courtyard.
#
TAIKO – the various Japanese drums called wadaiko (和太鼓 "Japanese drums") and to the form of ensemble taiko drumming more specifically called kumi-daiko (組太鼓 "set of drums").

#

See more about the Taiko Festival and Taiko@LCB Depot on Saturday 6 July