Three artists from StudionAme take over LCB Depot's Lightbox gallery in November 2018:
Phil Hackett : Physikospectrosymphonia 1-11 November
Private View Thurs 1 November
Make a picture with sound at Easy Saturday family day, 10 November 12-4pm
Jonjo Elliott : Anonymous 12-20 November
Private View Friday 16 November 6-8pm
Painting class for kids Saturday 17 November 10am-2pm – contact jonjo via www.jonjoelliott.com to book a place
Tim Fowler : Memento Mori – 100 Skulls 21 November-1 December
Closing party at LastFriday street food night, 5-9pm
#
PLUS Smoke and Smile performance by Marcus Dove at Last Friday on 30 November.
#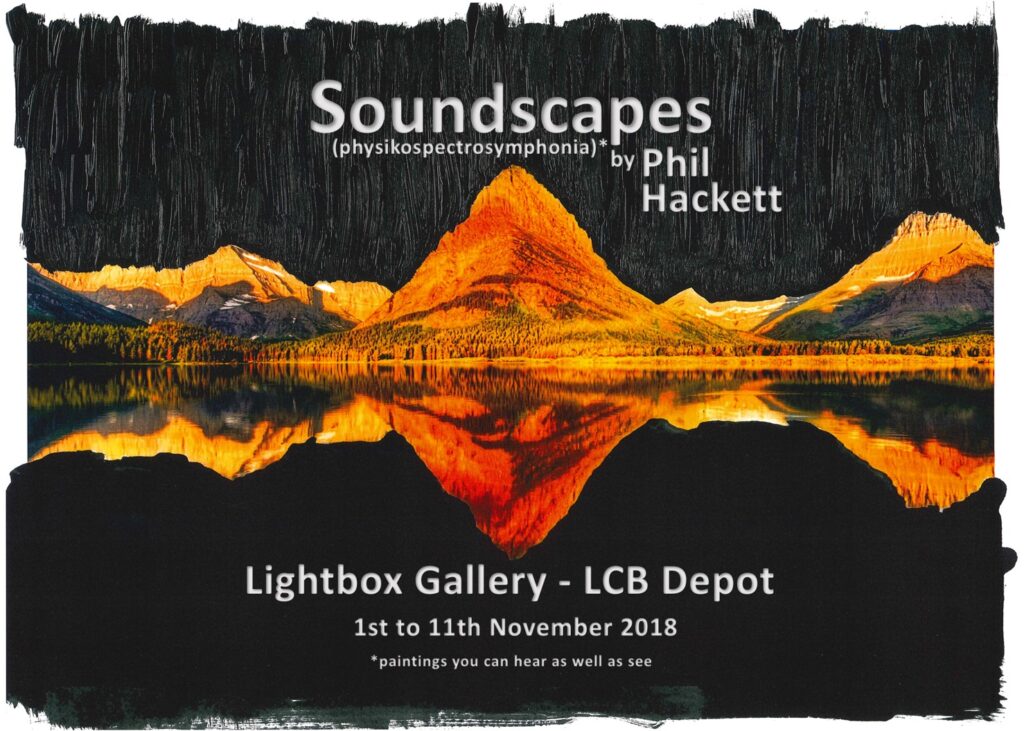 Phil Hackett : Soundscapes
A series of large framed photographs of reflected landscapes in still lake waters that have been overpainted by the artist to create soundwave shaped images of nature. These soundwaves are created from the actual landscape outline created by the reflection in the original photographs. These soundwave shapes are then converted electronically from a visual reference into a sound reference that is then playable for the viewer to hear by the touch of a button while observing the work.
The paintings are for sale at £450 each. Limited edition 7″ vinyl picture disc prints (10 of each painting) are £50 each. Contact the artist to secure your purchase – www.philhackettartist.co.uk
#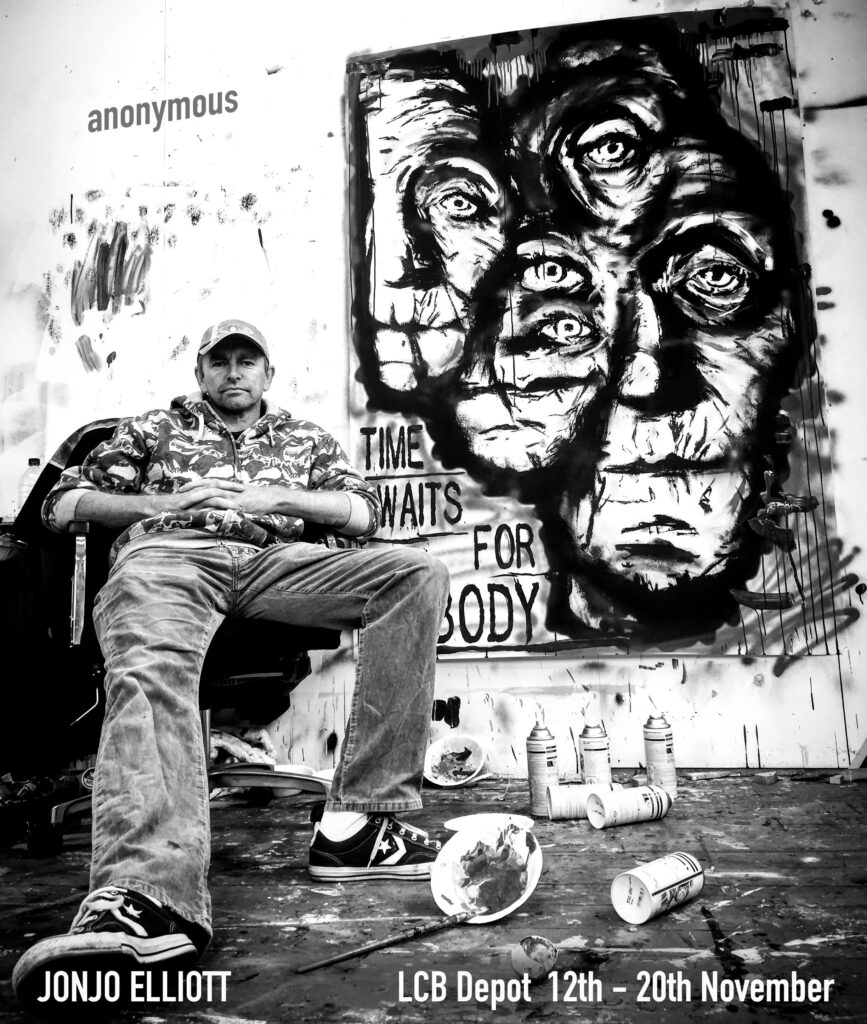 Jonjo Elliott : Anonymous
Jonjo is a multi media artist who's CV includes solo shows and exhibitions in the UK and abroad. His work is very structured in its research, planning, preparation and delivery and for this show, having a theme of anti-design, he has thrown that creative process out of the window, so to speak.
In designing an exhibition for a gallery space, artists must consider their approach to creation, they should have a solid plan of what they intend to make and they should ideally work with the gallery to deliver their vision.
Not this time.
For this show, Jonjo has used the idea of anti-design, he's broken his rules of creativity and let his explorative side take over. No specific time was scheduled in his busy calendar to make the work, no plan was created to follow and no rules were set for what was included, the work happened
when it happened, whenever the creative opportunity arrived. His only rule was to allow freedom to take over and see what happened.
#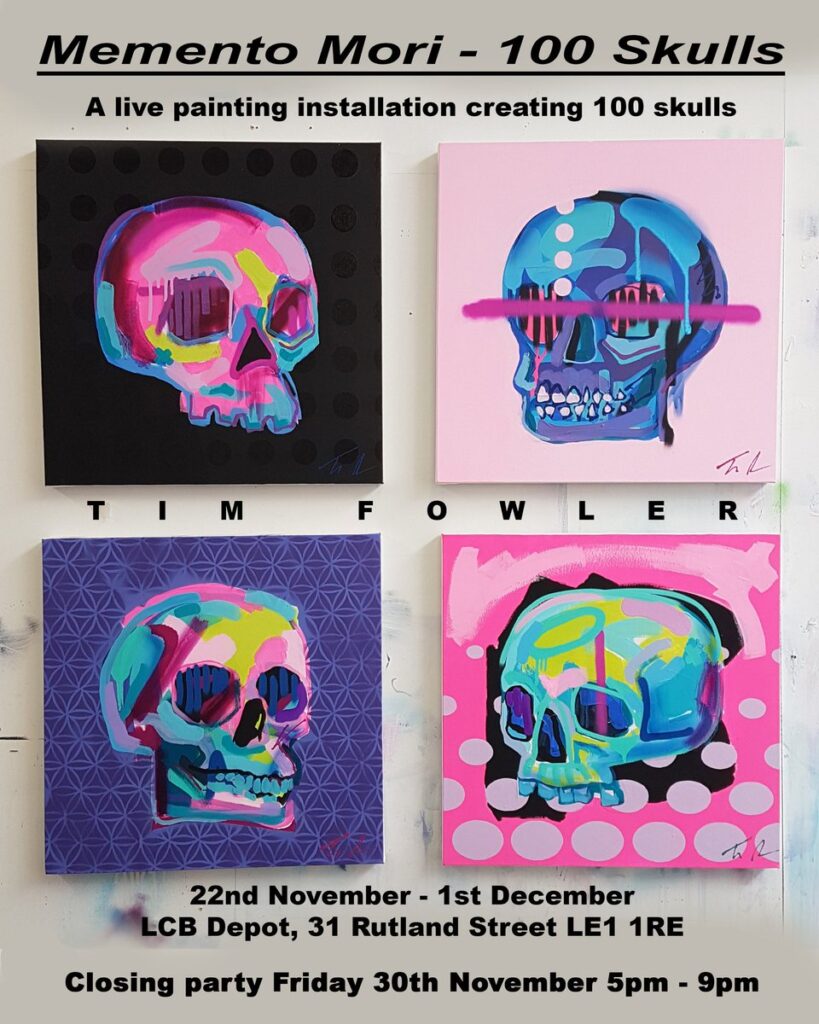 Tim Fowler : Memento Mori – 100 Skulls
Skulls have a strong connection to the theory of Memento Mori or 'Remember Death' which is a medieval practice to reflect on mortality, especially the transient nature of all earthly goods and pursuits. Considering these ideas Tim will create paintings of skulls within Lightbox.
Visitors are welcome to come and watch Tim paint live within the space and after a week all the works will culminate in a 100 painting installation. When our Lightbox gallery door's open and Tim is inside at work, pop in to see his 100 Skulls progressing! Other subjects touched upon within the work will be mass production and its effects on the art market, the commercialisation of ideas and the transient nature of trends within design. Once the exhibition is over visitors will have the opportunity to bid on the skulls to take a piece of this ambitious project home.
Tim's exhibition/residency is presented as part of Leicester Art Week