Artists from StudionAme take over LCB Depot's Lightbox gallery with a series of projects:
Loz Atkinson
Veneration in Light of our Forebears
A looped stop motion film of images from the fatal Italian mountain-top crash site of her great grandfather's WW2 Halifax Bomber.
In July 2019 Artist Loz Atkinson accompanied by Aeronautical Archeologist Francesco Sabini and Photographer Zoe Childerly, climbed Mount Zatta in Italy to discover the fatal crash site of her Great Grandfathers WW2 Handley Page Halifax Bomber. On display will be found artefacts from the 1944 crash and a looped stop motion film of images captured on the mountain. The radiant choreography captured within these images hold thoughts of apparitions of the past and how fleeting memories are and how they affect us.
1-29 November Monday to Friday 9am-5.30pm
* Loz will be running a paper aeroplane workshop at Easy Saturday family day on Saturday 9 November, 12-4pm
#

Adam Khalifa/Steven Allbutt
Atrocity
A revolving interactive card game in Lightbox 5-8 November and at LastFriday street food night 29 November 5-10pm
5-8 and 29 November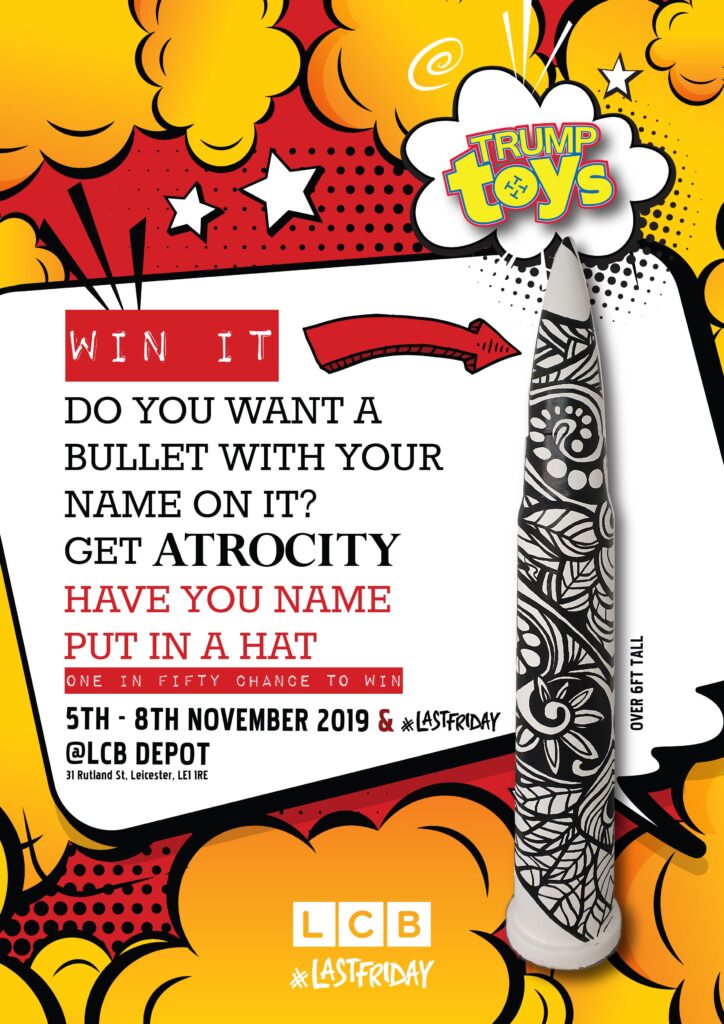 Win a six foot tall Atrocity bullet with your name on it – buy a pack of limited-edition Atrocity trump cards for only £13 and pop your name in the hat Tues 5 Nov to Fri 8 Nov and at LastFriday on 29 Nov : one in fifty chance of winning!
#

Ruth Hannah
Belong
Interactive video and live art installation
We all want to BELONG!
Are you tired of feeling alone?
Get stuck in the right echo chamber with BELONG!
We will help you to assimilate the right way.

Become one of us from 9th-15th November at the Lightbox gallery, LCB Depot.
Be there to BELONG.
Artist Ruth Hannah invites you to take part in an exclusive Yawnitiation ceremony to determine whether or not you BELONG.
Ruth's debut show explores themes of identity, collective consciousness, cult brands, mob mentality and echo chambers; using video, sound and interactive live art to immerse you in a world that will make you question your own autonomy.
9 – 15 November
* drinks reception Monday 11 November 6-8pm
* Ruth will be running a Yawn! workshop at Easy Saturday family day on Saturday 9 November, 12-4pm : people will be invited to have a go in the Yawning Booth that captures any yawns that happen and projects them onto the wall!
#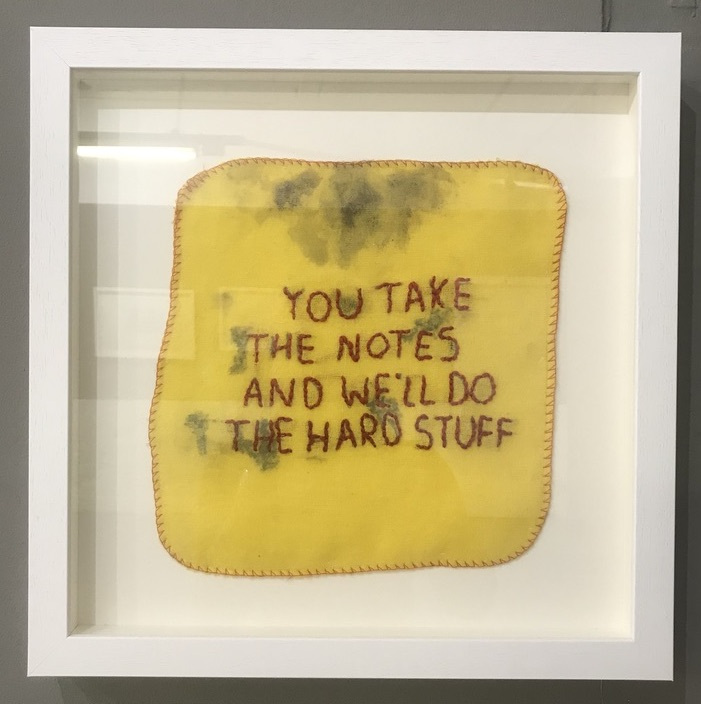 Willow Stacey
Things Men Say
An exhibition and series of drop-in embroidery workshops
Embroidered handkerchiefs immortalising comments that have been made about their creators will be collated to form a shelter/safe space.
" When someone says something to you that sets you off on a whole new journey. For me it was when I was doing a shift as a waitress in the pub I have worked at on and off since I was 14. A customer said "if a woman is earning a lot of money she is doing a man's job." and I was left with that conflict of being at work and trying to stay professional and seething inside.
The family all know that I talk through my art, this work started as a way for me to portray what has been said to me, sometimes really pissing me off. I then became inspired to give other women a voice. I have been overwhelmed by the words sent to me and I see this exhibition as a work in progress as there is still so much to portray. The feedback already from some of those women has been the most important thing; one said it was cathartic and another said they had been carrying around the words for years without ever sharing them.
When I was deciding how to make this work I instantly knew I wanted to put the words on something inherently feminine and the act of embroidery creates a conversation between the brash sayings and the delicate, domestic textiles.
So that was what it took to start me off thinking about the things men say… "
PLEASE NOTE : some of the artworks in this exhibition contain words and phrases of a sexual nature
Drop in embroidery workshops run Monday 18th – Friday 22nd November 10am-4pm
The collection of work will be unveiled in the LCB Depot courtyard at LastFriday street food night on November 29th 5-10pm : kite flying of embroidered handkerchiefs.
18 – 22 November 10am – 4pm
#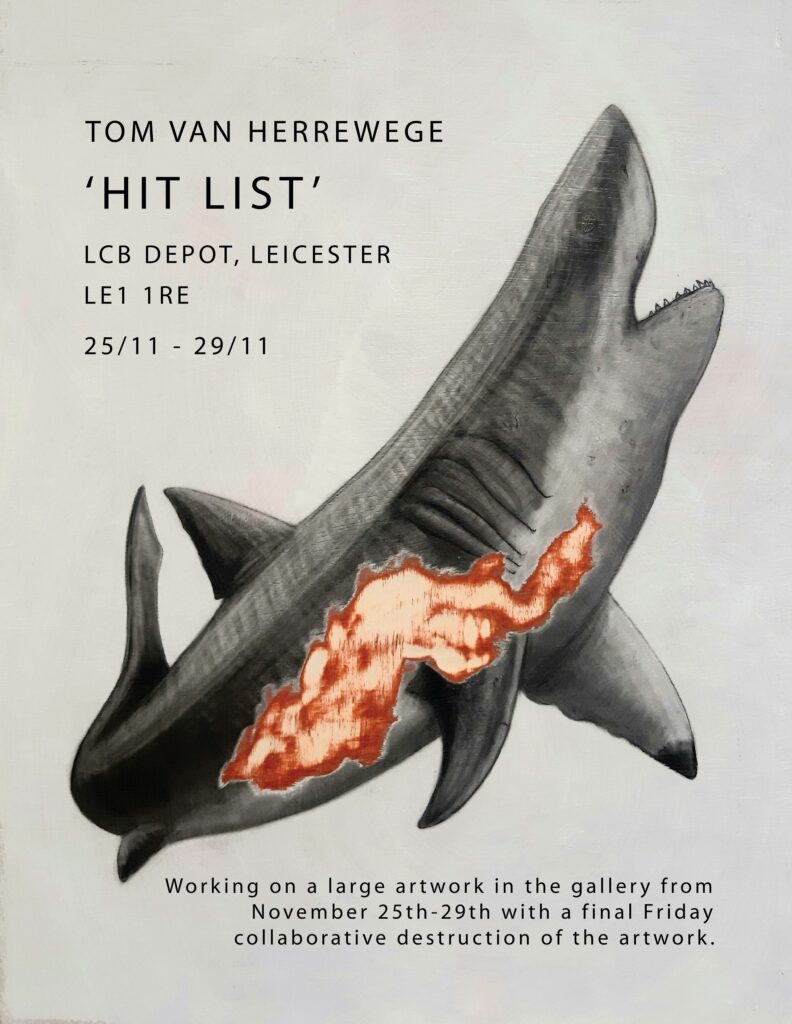 Tom Van Herrewege
Hit List
Tom will create a 12-foot by 8-foot drawing on plywood of an endangered animal over a week while he lives in the gallery. He will then invite the audience at LastFriday street food night on 29 November 5-10pm to partially erase the image by sanding it away.

25-29 November
#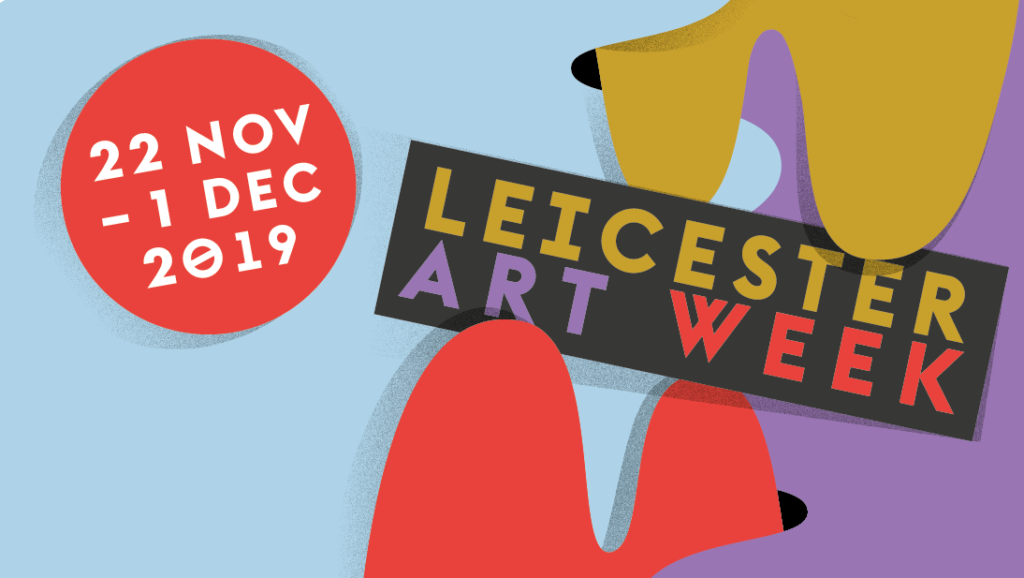 Part of Leicester Artweek 2019 – events and exhibitions at eight venues across the city 22 November-1 December