LASTFRIDAY ….on the last Friday each month… amazing street food in our courtyard ; plus bars, comedy, art, music and vibes.
#
S T R E E T F O O D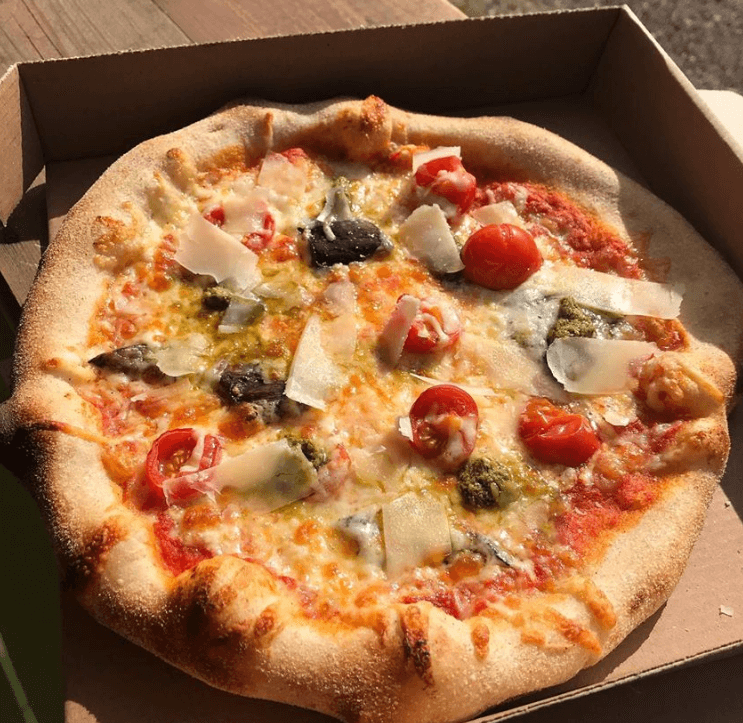 Chez Sebastien (Artisan Pizza)
"From Melton Mowbray, Chez Sebastian are pioneers of crafting delicious artisan pizza, made using only the best free range, local produce."
Fresh Rootz (Vegan Wraps & Curries)
"From Leamington Spa, Fresh Rootz are Veg/Vegan award winners of the BBC Good Food show. Travelling up and down the UK, Fresh Rootz are best known for their Pakora wraps and Asain curries…"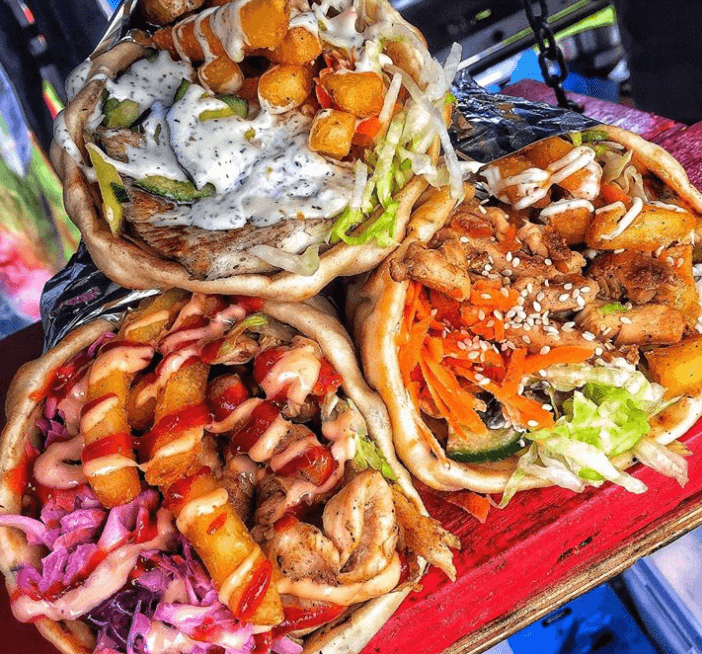 Gyro Guys (Gyros)
"From Lichfield,. Gyro Guys are renouned for their delicious Greek style Gyros filled with kebab meat, chips, salad and sauces."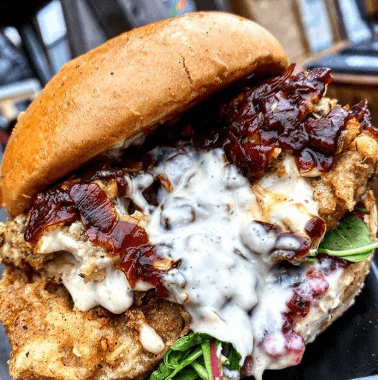 Huns Vegan (Vegan Chicken)
"Huns offer delicious 100% handmade vegan fried chicken which is spiced to perfection with their secret crispy coating – whether it be served as fillets, or one of three speciality burgers with vegan cheese, pickles and homemade mayo!"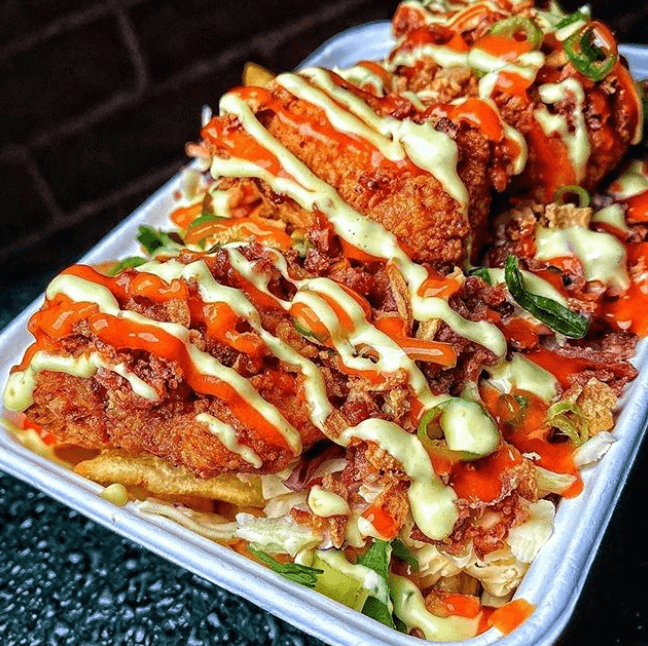 What The Cluck (Crispy Fried Chicken)
"From Birmingham, What The Cluck bring you a special array of crispy fried chicken and loaded fries…"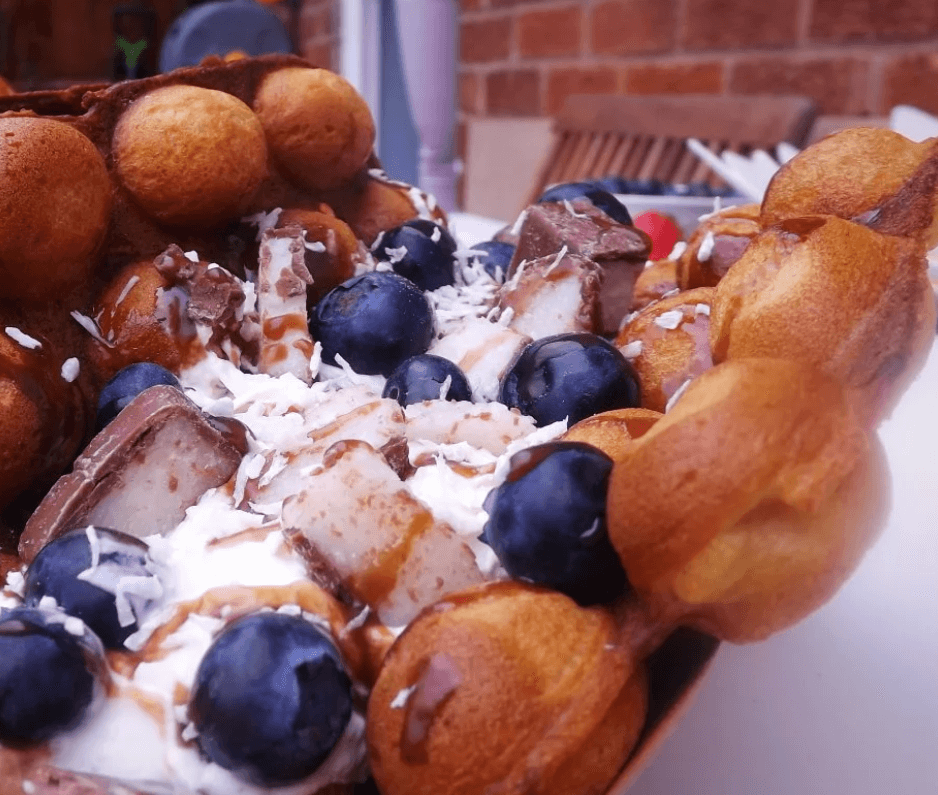 Edibubbles (bubble waffles)
"Our bubble waffles are crispy on the outside, fluffy in the middle and are truly a treat for your taste buds. We only use fresh and local ingredients and the recipe has been created by ourselves. Besides the delicious taste and the drool-worthy look of them they are also incredibly light due to the bubbles in thebatter which makes them a perfect dessert. Our recipes and menu are inspired by Asian street food but have a British twist."
Two completely mouthwatering vegan/vegetarian street food traders will be at every #LastFriday.
Vegan/Vegetarian drinks options are also available from the resident bars (ask for more info at the bars on the night).
#
D R I N K S
GRAYS Coffee Shop & Kitchen & Kitchen Bottle Bar (Cafe Bar)
Ale Wagon (Garden Bar)
Last Friday Cocktail Bar (Front Bar)
#
M U S I C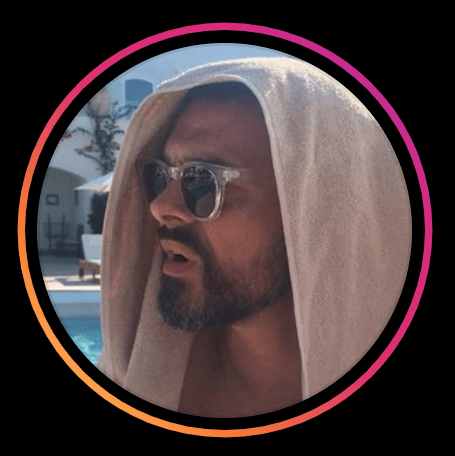 DJ inside : Chris Long from 2funky music cafe
You can find Chris Long's Soulism Saturdays radio show broadcasting live every Saturday morning from 10am on radio2funky.co.uk
#
C O M E D Y I N T H E C O U R T Y A R D R O O M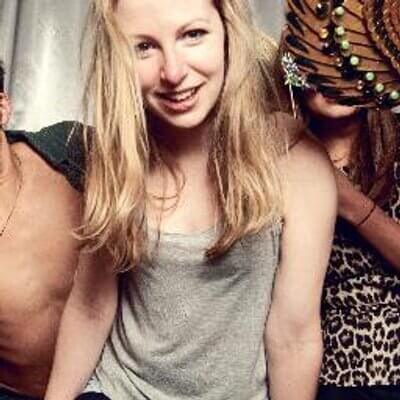 Jenny Collier 7pm
Multi award-winning Welsh comedian, Jenny Collier, is back and about to get biblical on your ass. In a totally non-religious way, she'll talk you through her latest lolworthy attempts at life improvement. Since last year, Collier has started taking dance classes (she's been once), had some surgery (not the tits) and got 4 yeses from the Britain's Got Talent judges (for her comedy).
Jenny is a regular on the club and festival circuit in the UK and around the world. She has written for: BBC Radio 4's The News Quiz, The Now Show, Newsjack, Huffington Post and Glamour Magazine.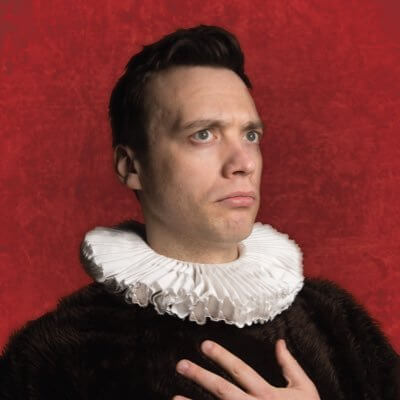 Edy Hurst 8.15pm
Award-winning comedian Edy Hurst brings his musical comedy, loop pedal nonsense and stand-up to answer the age-old question: 'What's the deal with Edy Hurst? Who even is he? Where am I? What?' As seen on MTV, BBC Radio 4, BBC New Act Nominee 2017, Great Yorkshire Fringe People's Champion 2017, Harrogate Comedian of the Year finalist 2018, nominated for the Musical Comedy Awards 2018
A R T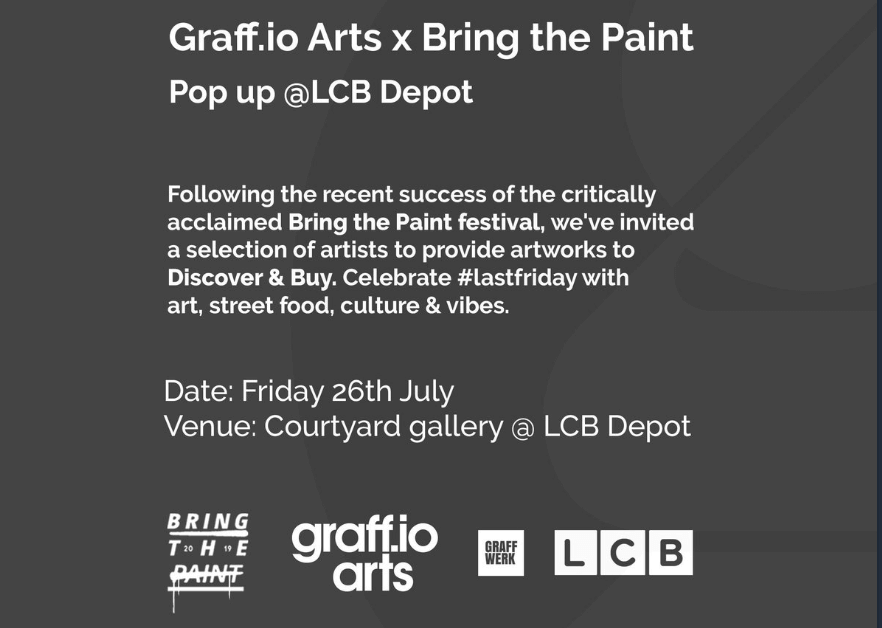 Graff.io Arts x Bring the Paint
A selection of artists provide artworks to Discover & Buy. Featuring originals, screen prints, limited edition prints open editions & a touch of augmented reality.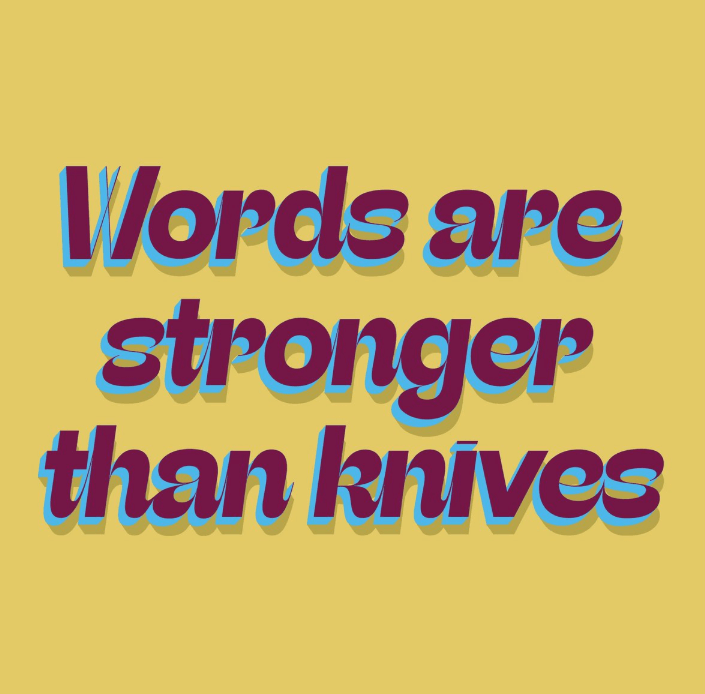 Releasing at LastFriday is a new collaborative print with Alex Cullen : 'Words Are Stronger than Knives', a powerful message, part of the #PositiveType project in aid of @ArtAgainstKnive This limited edition print is available from Graffio Arts from 6 till 9pm.
#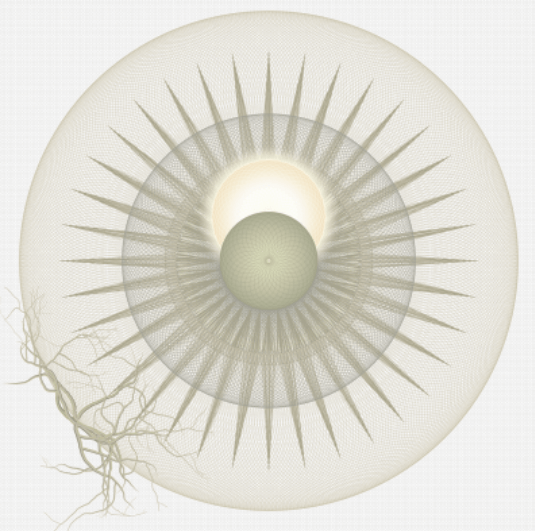 Interact live at LastFriday
We are pleased to be showing twelve new digital artworks by internationally recognised artists in this year's CAS50 Collection exhibition from the Computer Arts Society & Interact Digital Arts. As well as images, there will be sound works and video, together with a live event and workshop.
Live multimedia performance featuring Gakkon Rom, Commonwealth Graveyards, 1,000,000,000,000 O' Clock, Sam Topley, Ninja Bob, Myoptik, PDOT AND BRINX, Sadfem.
The CAS50 exhibition is on show at LCB Depot 22 July to 7 August.
#
P E R F O R M A N C E   :   J A S   S I N G H   /  S A B O T A G E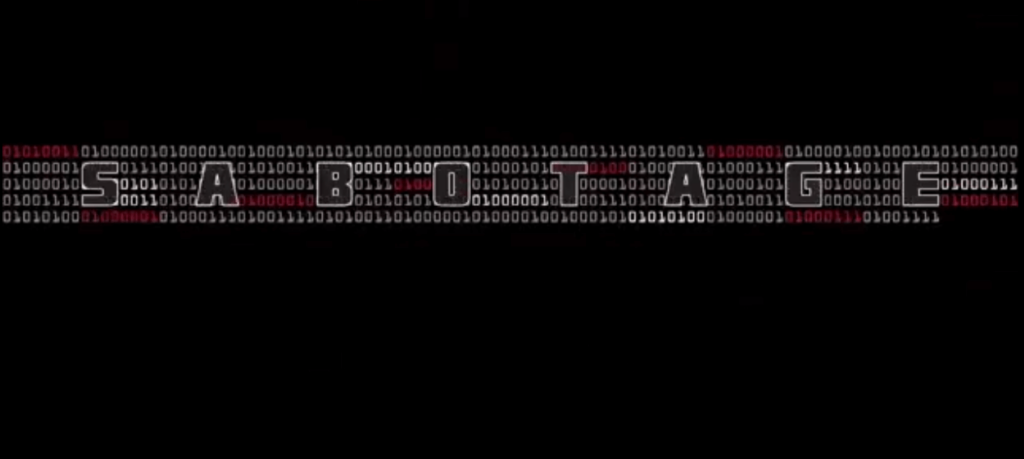 Friday 26th July 11am – 11am Saturday 27th July 2019
Sabotage is a live, 24-hour online performance taking place on Friday 26 July that will splice together fragments of video and audio taken from international news channels with artist generated content, forming a constantly changing moving- image collage.
Jas Singh will create the performance in real time, blending the visuals and sound and broadcasting it as a live-stream. The performance aims to emphasise a narrative of unity and solidarity, placed within the spectacle of a news culture that reflects and amplifies the chaos of contemporary politics and events. In our Print Room then Lightbox gallery and online.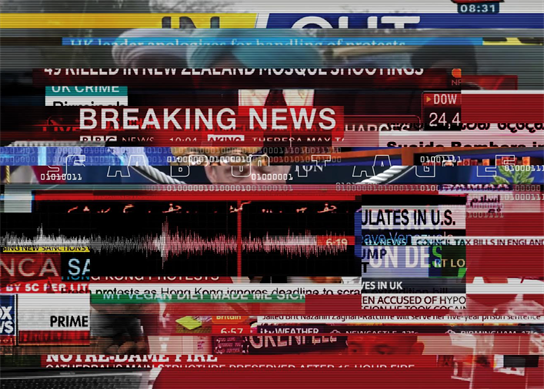 #
M U S I C P E R F O R M A N C E : T H E L I F T
In our courtyard
"A metaphor for the action of raising one's spirit through creative expression and relatable messages; The Lift is a movement, a collective of artists fusing Hip-Hop, Soul and Jazz to create a tangible connection with the audience that resonates with and elevates the listener."
5 members : Strizzy Strauss, Ash Styles, Starboy Sun, Shenine and Ras Jahsiah
#

A N A U D I E N C E W I T H G A R E T H D A V I E S
P A P E R C O N S U L T A N T, G F S M I T H
Over the road at The Unloved in The Foister Building, 128 Charles Street, Leicester LE1 1LB 6.00 – 8.00pm
Plus screening of Rams by Gary Hustwit – a beautiful design documentary about Dieter Rams, one of the most influential designers of our time.
Get your invite here
#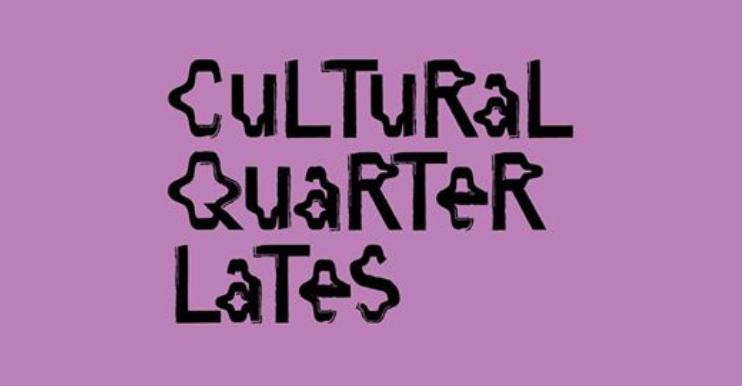 C U L T U R A L Q U A R T E R L A T E S 5 – 9pm
Cultural Quarter Lates returns with the usual mix of late exhibition openings and free events all within short walking distance of Last Friday at LCB Depot
Two Queens 2 Queen Street, LE1 1QW
Members Project Space Exhibition Launch: Worry Room
"Worry Room" presents new work by Two Queens members Jane Domingos, Lucy Andrews and Julie Kilminster. The exhibition explores the nature of our worries, anxieties and over-thinking through painting, ceramics and sculpture – All welcome!
Leicester Print Workshop 50 St George Street, LE1 1QG
Red Spot Gallery presents Kate Da'Casto. Launch evening, 5pm – 8pm
A new series of selling exhibitions featuring work by LPW artists, curated as part of the LPW Shop. Join us for the launch evening of our first exhibition of work by Kate Da'Casto.
Phoenix 4 Midland Street, LE1 1TG
Studio Oleomingus: Langoors in the Labyrinth 5-11pm
Langoors in the Labyrinth is an experimental game by Indian independent game developers Studio Oleomingus, commissioned by Phoenix and showing for the first time in our gallery space.
#
A F T E R P A R T Y
Manhattan34 Cocktail bar is proud to host the official afterparty of Last Friday. The after party will officially start at 10pm and go on until 1am. Live music in the Cellar Bar to enjoy as well as a bespoke reduced priced cocktail and drinks menu designed for the after party.
#
Get updates on Twitter, Facebook & Instagram @lastfridaylcb and see more at www.lastfridaylcb.uk
#
Free entry, pay for what you eat and drink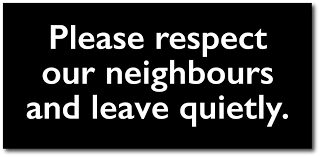 #
LastFriday is an LCB Depot/Grays production
For trader enquiries, contact Bookings@lastfridaylcb.uk
For marketing enquiries contact Lu@lastfridaylcb.uk
For venue/arts bookings contact James@lastfridaylcb.uk
#
LCB Depot aims to create a stimulating and interesting programme of events to enrich the cultural and entertainment offer of Leicester's Cultural Quarter, in conjunction and in sympathy with the local community of residents, businesses and visitors.
If you have concerns about any aspect of our events, such as noise from music or crowds, please contact our designated premises supervisor on 0116 261 6805.