LASTFRIDAY ….on the last Friday each month… amazing street food in our courtyard ; plus bars, comedy, art, music and vibes.
Come to LastFriday on Friday 31 May!
Two completely mouthwatering vegan/vegetarian street food traders will be at every #LastFriday.
Vegan/Vegetarian drinks options are also available from the resident bars (ask for more info at the bars on the night).
#
▶ S T R E E T F O O D ▶
English Indian
Classic Fast Food dishes with an Indian twist. The English Indian fry some of the best homemade Fish, Chicken, Halloumi & chips you'll ever taste.
Fancy Fries
Fancy Fries specialise in fresh hand cut Belgian fries served with homemade sauces such as slow cooked brisket, chilli con carne, beer battered fish and more….
Gyro Guys
Bringing you gyro wraps and fries, from Lichfield
Huns Food
Huns Vegan offer delicious 100% handmade vegan fried chicken which is spiced to perfection with their secret crispy coating – served as fillets, or one of three speciality burgers with vegan cheese, pickles and homemade mayo!
Vausages
Vegan hot dog revolutionaries, Vausages have taken the UK vegan scene by storm. Providing the best multi cuisine gourmet plant-based sausages in town. Touring the country far and wide serving up five mouth watering flavours.
Edibubbles
Edibubbles are returning this month bringing their authentic Hong Kong street food to Leicester with a Brummie twist. Drool-worthy and deliciously curvy!
▶ D R I N K S ▶
– GRAYS Coffee Shop & Kitchen & Kitchen Bottle Bar (Cafe Bar)
– Ale Wagon (Garden Bar)
– Last Friday Cocktail Bar (Front Bar)
▶ M U S I C ▶
Indoor DJ : Audio Dope
Outdoor DJ : Kev Mud
▶ C O M E D Y ▶
Jokes On Us Free Festival presents free or pay-what-you-want-on-the-night comedy, in the Courtyard Room…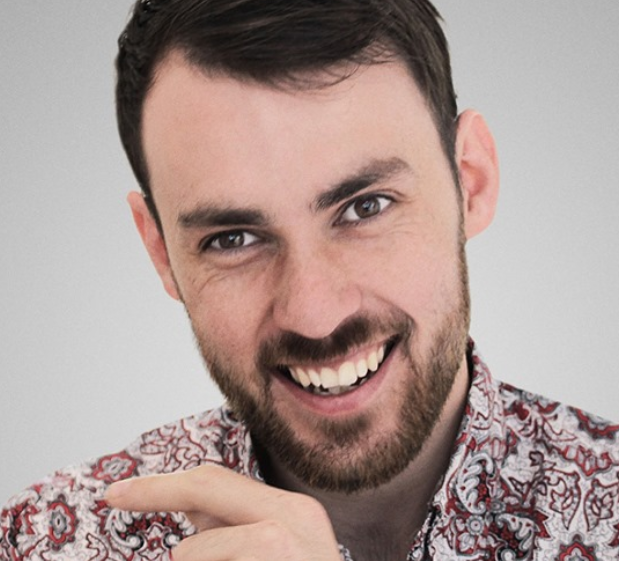 Alex Hylton : 7pm
"Brand new material from one of the fastest-rising acts in the UK. Not sure whether he's destined, or just desperate for the big time, Alex Hylton tries his absolute hardest with this ambitious new show to make a million quid and all his problems go away. Leicester Comedy Festival Liberty Award Winner."
'An Undoubted Talent' – Chortle ' Catch him now, whilst he's still playing the smaller rooms!' – EdFringeReview.com
Rahul Kohli : 8:15pm
The self-styled 'Newcastle Brown Male', Rahul Kohli won the prestigious Leicester Square New Act of the Year in 2017 and returns to Leicester with his riotous yet charming style. Expect satire, storytelling and standup in its purest form from an Indian-Geordie tour de force. As seen on the BBC Asian Network. He has also appeared on the BBC's Big Asian Comedy Night.
▶ A R T / O P E N M I C ▶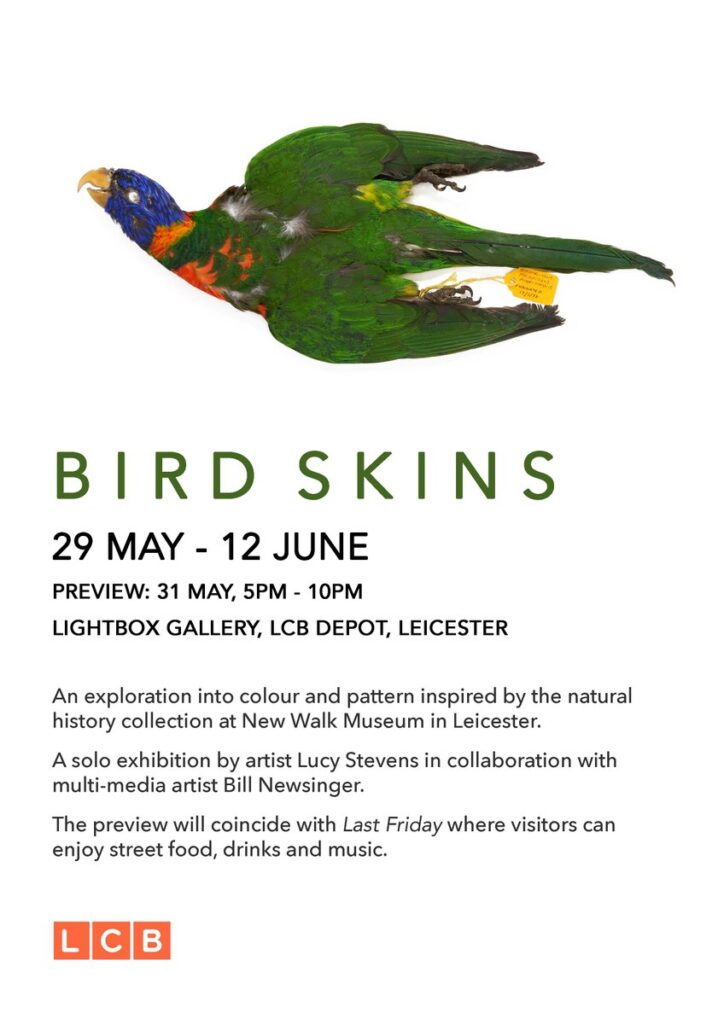 Lucy Stevens : Bird Skins exhibition launch in Lightbox
The exhibition is an exploration into colour and pattern and is inspired by the natural history collection at New Walk Museum in Leicester. The collection of works will include photography, paintings, mixed media and animation, in collaboration with Bill Newsinger. No birds were harmed in the making of this exhibition.
#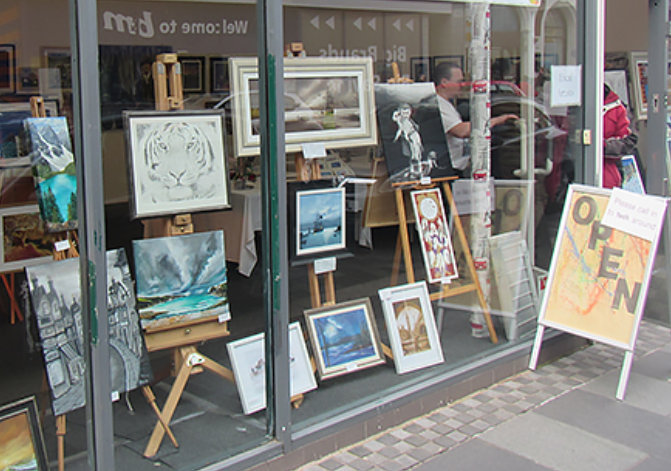 DIY Gallery in the Old Gallery
CALL FOR ARTISTS + CURATORS + ART COLLECTORS!
BRING YOUR ART* TO OUR POP-UP SHOW WHERE YOU CURATE THE SPACE & RUN THE GALLERY
FREE ENTRY + KEEP 90% OF YOUR SALES
(10% commission goes towards keeping the DIY Gallery FREE to enter and open to everyone, for as long as humanly possible)
SUPPORT YOUR LOCAL ART SCENE_____ !
*Please bring artwork unframed – ALL MEDIUMS ACCEPTED INCLUDING PHOTOGRAPHY + VIDEO + PERFORMANCE
Exhibition opening also features open mic + live music + live art + shop
OPEN MIC – start a live jam / spoken word / just play some songs – performance area will be open to all … come play with us!"
#

DMU INTERFACES Sound Art Festival interactive installations
The Interfaces Sound Art Festival brings sound art to venues across Leicester's Cultural Quarter. Presented across the Cultural Quarter in Phoenix Square, The Curve Theatre, LCB Depot and The Exchange Bar, the festival includes a diverse range of work that explores and celebrates sound in relation to space, place, image and sculpture.
LCB Depot will present, in the Print Room and Foyer:
Davide Baldazzi's 'Molekules' – an ephemeralbody of sound particles across two face-to-face multichannel sound panels;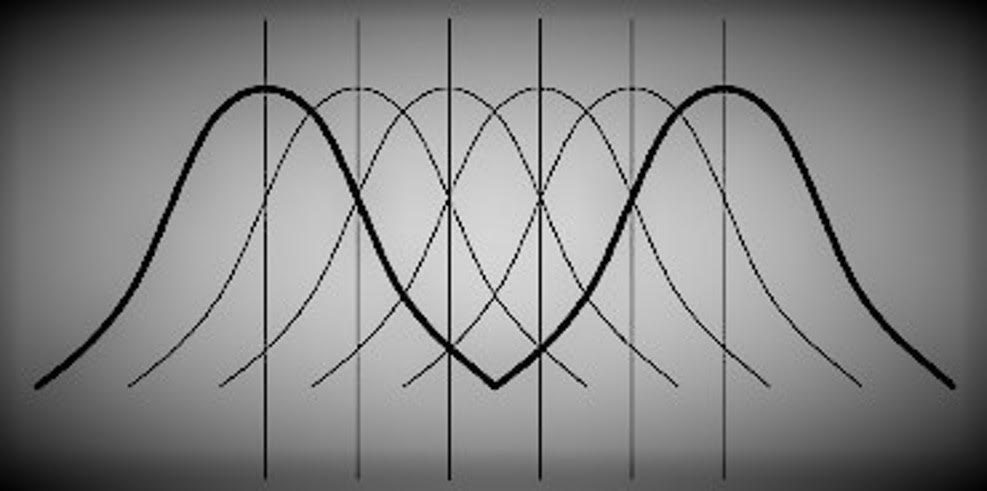 Bruno Iglesias's 'Frame of Phase' uses evolving phase relationships of sounds across multiple moving speakers to comment on the ever-changing perspectives, topics and positions of today's media information outlets.
▶ C U L T U R A L Q U A R T E R L A T E S ▶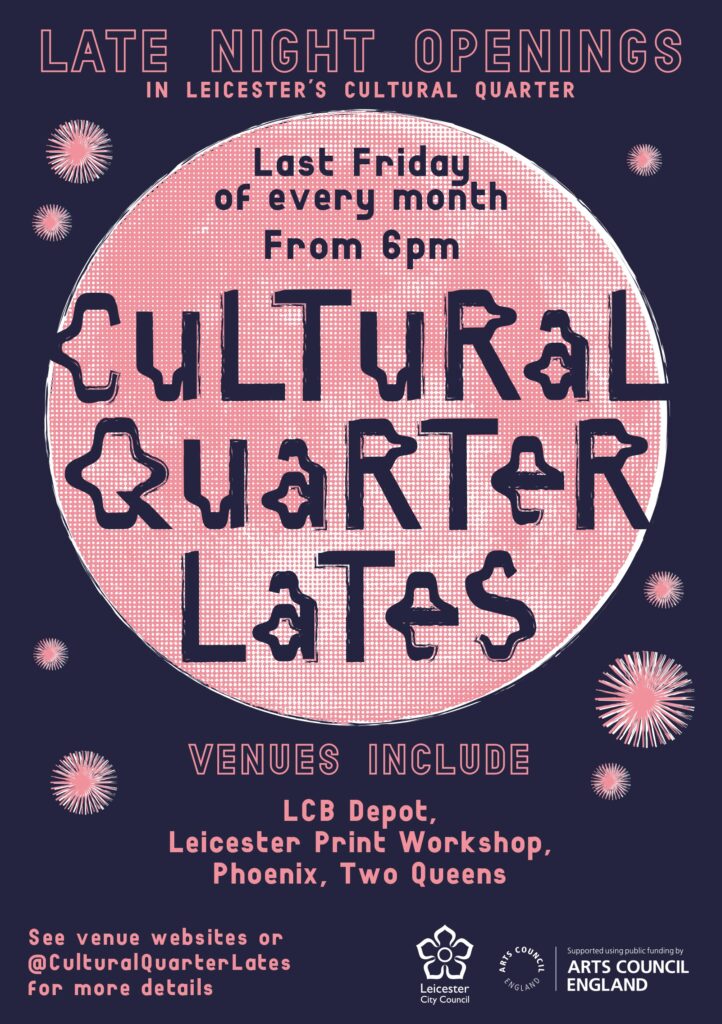 Cultural Quarter Lates returns with the usual mix of late exhibition openings and free events all within short walking distance of LastFriday at LCB Depot
Two Queens 2 Queen Street LE1 1QW
Annual Members show exhibition opening – 6-9pm
Opening of an exhibition of new work by Two Queens members and studio holders, all welcome!
Leicester Print Workshop 50 St George Street LE1 1QG
Red Spot Gallery presents Elizabeth Walker. Launch evening, 5pm – 8pm
A new series of selling exhibitions featuring work by LPW artists, curated as part of the LPW Shop. Join us for the launch evening of our first exhibition of work by Elizabeth Walker.
Phoenix 4 Midland Street LE1 1TG
MARIO KLINGEMANN – INTERSTITIAL SPACE, exhibition open until 11pm
Acclaimed German artist Mario Klingemann is creating a new interactive installation for the Art-AI festival, placing the viewer in the middle of an AI system where two neural networks are pitted against each other.
▶ A F T E R P A R T Y ▶
Manhattan34 Cocktail bar is proud to host the official afterparty of Last Friday. The afterparty will officially start at 10pm and go on until 1am. Live music in the Cellar Bar to enjoy as well as a bespoke reduced priced cocktail and drinks menu designed for the afterparty. Directly opposite LCB Depot's main entrance, across the road in Rutland Street.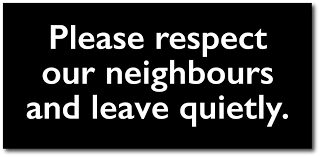 Get updates on Twitter, Facebook & Instagram @lastfridaylcb and see more at www.lastfridaylcb.uk
#
Free entry to LastFriday, pay for what you eat and drink.
#
LastFriday is an LCB Depot/Grays production
For trader enquiries, contact Bookings@lastfridaylcb.uk
For marketing enquiries contact Lu@lastfridaylcb.uk
For venue/arts bookings contact James@lastfridaylcb.uk
#
LCB Depot aims to create a stimulating and interesting programme of events to enrich the cultural and entertainment offer of Leicester's Cultural Quarter, in conjunction and in sympathy with the local community of residents, businesses and visitors.
If you have concerns about any aspect of our events, such as noise from music or crowds, please contact our designated premises supervisor on 0116 261 6805.