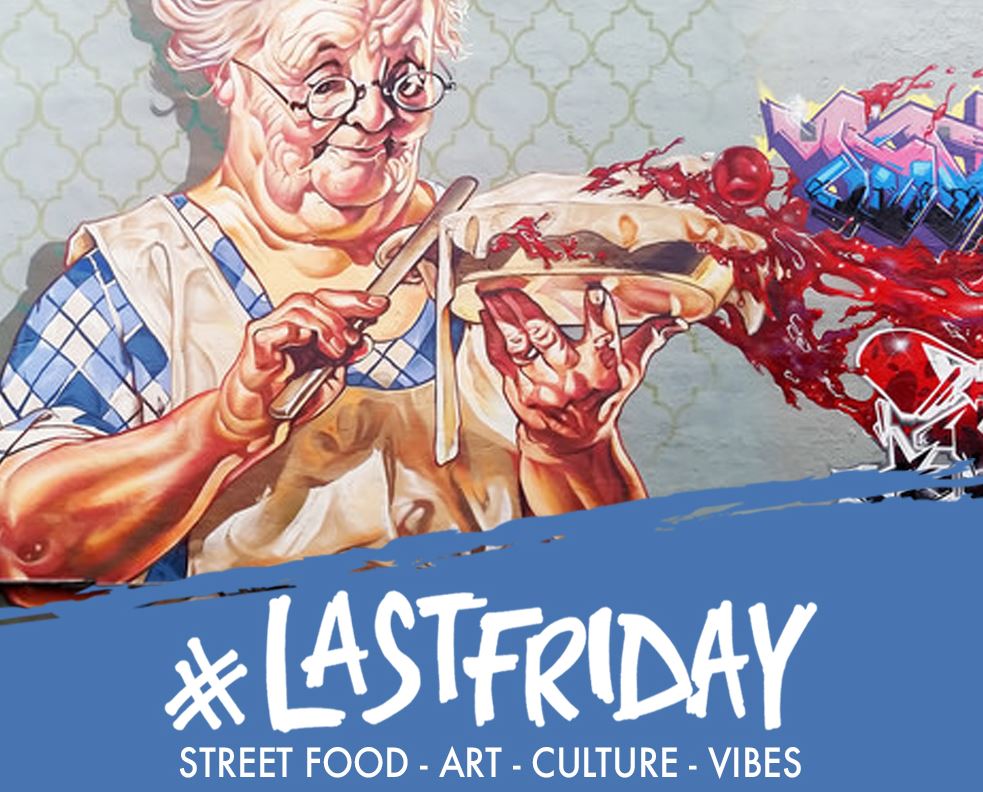 LASTFRIDAY ….on the last Friday each month… amazing street food in our courtyard ; plus bars, comedy, art, music and vibes.
▶ S T R E E T F O O D ▶
Big Daddies Diner – (Gourmet Hot Dogs)
"Midland residents Big Daddies Diner serve some of the best gourmet ribs, hot dogs & corn dawgs with fresh toppings and banging sauces."
Boxfood – Fiery and seasonal flavours from the travelling BoxFood stand, from Northampton
Edibubbles – bringing the authentic Hong Kong street food to the UK with a brummie twist. "Drool-worthy and deliciously curvy…"
Fancy Fries – (Belgian Fries)
"Coming from Birmingham, Fancy Fries specialise in fresh hand cut Belgian fries served with homemade sauces such as slow cooked brisket, chilli con carne, beer battered fish and more."
Huns Vegan – (Vegan Chicken)
"Huns offer delicious 100% handmade vegan fried chicken which is spiced to perfection with their secret crispy coating – whether it be served as fillets, or one of three speciality burgers with vegan cheese, pickles and homemade mayo!"
Smoqued – (Mexican Inspired Street Food)
"From Nottingham, Smoqued foods bring us the best of Mexican inspired street food."
▶ D R I N K S ▶
– GRAYS Coffee Shop & Kitchen Bottle Bar (Cafe Bar)
– Ale Wagon (Garden Bar)
– MPB Cocktail Bar (Front Bar)
▶ M U S I C ▶
Inside : DJ Folded Space
Outside : The Promised Land
▶ C O M E D Y B Y J O K E S O N U S▶
Pay what you want on the night
7.00 – 7pm: Alex Kealy
Alex Kealy, A 'rising star of the British stand-up scene' (The List), brings his 'storming show' (The Sunday Times) to Leicester after performing a critically-acclaimed Edinburgh Fringe to packed rooms. 'This is clever comedy…one of those shows where you come out feeling like you've done yourself some internal damage from laughing so much.' – Shortcom
8.15pm Friz Frizzle:
Friz Frizzle is a Songruiner. Armed with a piano, he'll take the tunes you know and love and mess about with them until you don't want to know or love them anymore. A Naturally funny livewire, Frizzle's unique style has made him a favourite among both acts and audiences alike and earned him a nomination at 2017 Musical Comedy Awards. A Star in the making.
▶ A R T X D E S I G N S E A S O N ▶
"A new experimental arts partnership between @anerki.arts & WHIRRR promoting and exhibiting work from cross disciplines.
Consisting of music / art performances, DIY T shirt making workshop, clothing line launch & Bring your own art show – (inviting local artists to exhibit their work in the space)" Happening in the Old Gallery this week at #LastFriday…"
#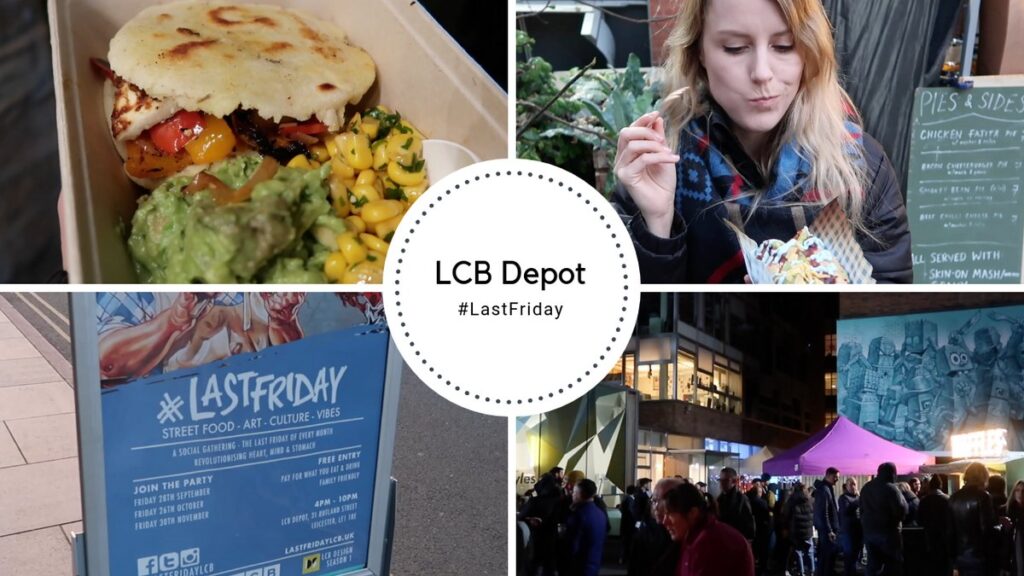 Watch vegan street food vlogger Lindsay's video of LastFriday #2 on 26 October
#
Get updates on Twitter, Facebook & Instagram @lastfridaylcb and see more at www.lastfridaylcb.uk
#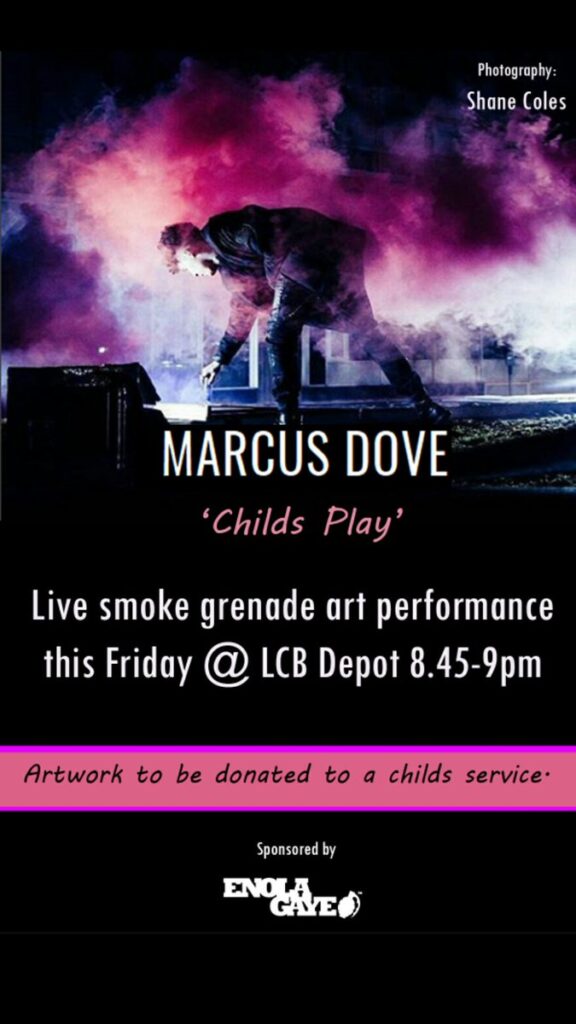 PLUS Child's Play smoke grenade art performance 8.45-9pm by Marcus Dove – part of the StudionAme residency at LCB Depot
#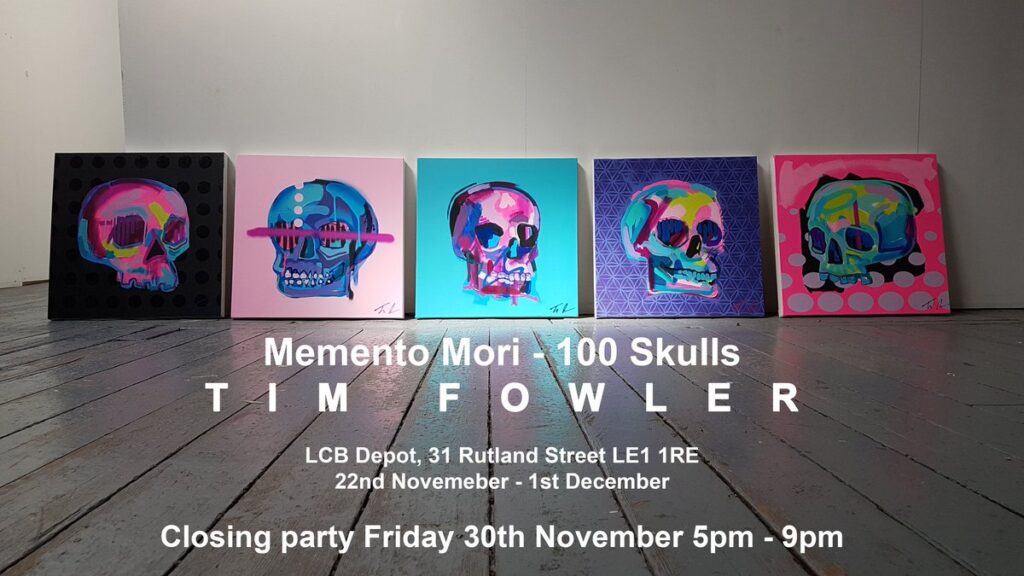 PLUS Closing Party for StudionAme artist Tim Fowler's exhibition Memento Mori : 100 Skulls
Buy one of the finished skulls!
They will go on sale at 6pm at the closing party on 30th Nov @lcbdepot for the crazy price of only £50!!!!! NO RESERVATIONS. Any skulls not sold on the night will be available to buy online
#
PLUS – enjoy our warming and spectacular fire pits!
#
PLUS
Leicester Startup WeekFounders Social from 6pm til late
Drink, eat and chat with fellow entrepreneurs from Leicester's startup community at LCB Depot's buzzing Last Friday event, which brings together street food, music and entertainment.
Start-up Weekend Kick-off Evening from 5:30pm at LCB Depot
Pre-event meet-up and social for our startup weekend. Pitch, Build & Launch a Startup in a single weekend!
#
PLUS – CQ Lates : Look out for the rickshaws – take a trip between Cultural Quarter venues this Friday night!
#
Free entry to LastFriday, pay for what you eat and drink.