danni/baby
Dancer, film-maker and drag artist Danni Spooner explores drag queen work through untraditional means. Through the use of queering and being queer, danni/baby will question where the current and future act of drag is.
#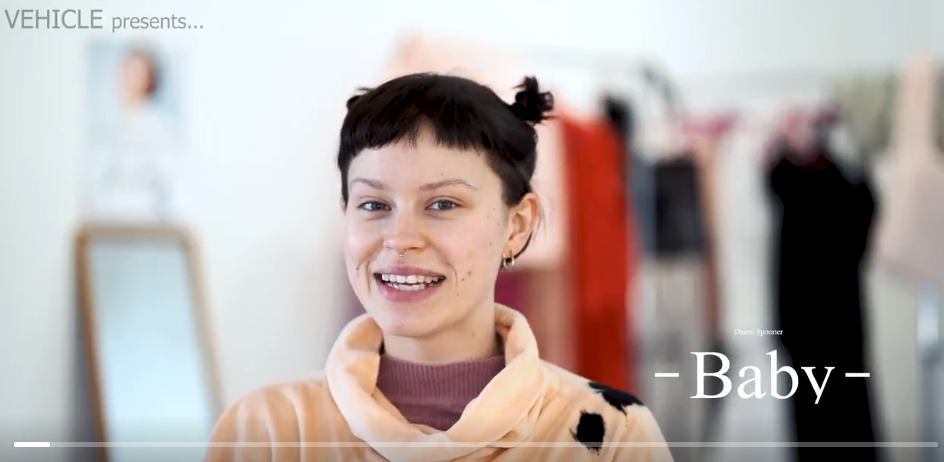 See a video in which danni talks about her residency/bursary
#
danni/baby will be hosting a variety of FREE talks, workshops, open studios, sharings and a rave during her residency in Lightbox at LCB Depot:
GOIN 2 TOWN
Saturday 5 January 11am-6pm
𝒷𝒶𝒷𝓎 X REIGN presents goin 2 town
𝒷𝒶𝒷𝓎 and REIGN will be spending their day prancing around Leicester city centre to investigate day time drag PLUS practicing radical narcissism.
Times on event are random and the event isn't really an event – just showing off that we'll be around and if ya see us take a pic and tag us yeah?!
See the Leicester Mercury article on danni's goin 2 town event – with video!
#
OPEN TABLE TALK
Tuesday 8 January 6-8pm
Danni Spooner presents open table talk
An open table talk on queer identity, focusing on misogyny and homophobia (internalised and external).
Come along for snacks, tea, cosy seats and decent discussion!
#
ALTER EGO WORKSHOP AT EASY SATURDAY
Saturday 12 January 12-4pm
Danni Spooner presents Easy Saturday
As part of Danni/𝒷𝒶𝒷𝓎's artist bursary and residency at LCB, Danni will be running a family-friendly workshop on alter egos at LCB Depot's Easy Saturday family day.
FAMILY FRIENDLY.
Full of arts and crafts to create characters, Danni will facilitate a fun and playful space to explore identities. Through costume, make up and imagination – you can be anything!
#
DRAG WORKSHOPS
Sunday 13 January 1,00-6,00pm
𝒷𝒶𝒷𝓎 presents drag workshops
2 X drag workshops – FREE – come to one or come to both!
Ever wanted to create a alter ego or drag persona?!
Here's your chance!
DRAG: an act of self care 1pm – 3pm
Explore how drag can be an act of self care. taking from experience, Danni will explain how 𝒷𝒶𝒷𝓎 is an outcome from a need for self love and care. dive deep into your identity, feel safe and discover how drag can help you love yourself!
DRAG: an act of rebellion 4pm – 6pm
Passionate about stuff?! wanna make a point about it?! GREAT! come create a drag persona and say stuff you'd usually get in trouble for. OR maybe your drag persona is your own rebellion which, honestly, is fabulous.
#
A QUEER RAVE
8pm Saturday 19 January to 2.00am Sunday 20 January
💋𝒷𝒶𝒷𝓎 presents a queer rave💋
𝒷𝒶𝒷𝓎's hosting a queer rave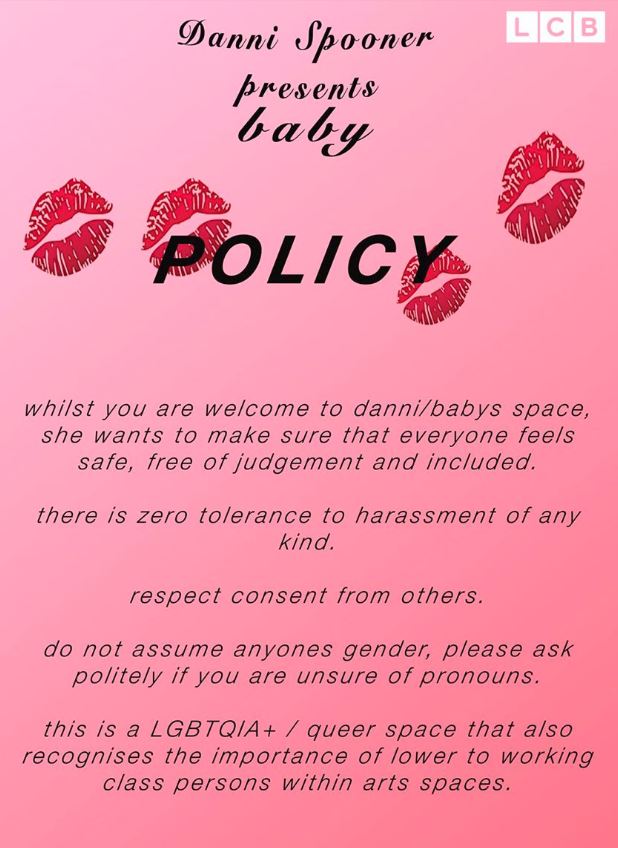 💋💋💋💋💋💋💋💋💋💋💋💋💋💋💋💋💋💋💋💋💋💋
– please look at and respect 𝒷𝒶𝒷𝓎's policy for the space (see above)
– come dragged up / dressed up / however ya feel qt
– if you would like to come into the space earlier to have help getting ready PLEASE DO (just let Danni/𝒷𝒶𝒷𝓎 know)
– Grays will be providing a bar for the night!
#
IF YOU ARE COMING PLEASE GET A TICKET (free) – register on Eventbrite
it's so we know estimated numbers qts
also PLEASE read the space policy (above) and invite all ya m8s
SPACE WILL BE AVAILABLE TO GET READY IN (only for individuals who feel unsafe travelling to the event in their outfit/makeup/etc. and those who want help with their looks prior) FROM 7PM
💋💋💋💋💋💋💋💋💋💋💋💋💋💋💋💋💋💋💋💋💋💋
NikNak will be DJin' into the night with her AM-AZIN skills. She's so good that in 2018, she became a presenter on "Backstage", a weekly arts and culture radio show at BBC Radio Leeds.
@niknakdjmusic
#
Danni/baby presents ?something?
Friday 25 January 4-10pm
On LastFriday street food night at LCB Depot, come along to Lightbox to see how the residency is going….
a sharing of Danni / 𝒷𝒶𝒷𝓎's work as they come to the end of their artist bursary and residency.
come long for LCB's Last Fridays event and see what Danni / 𝒷𝒶𝒷𝓎's been up to too!
#
LCB Depot artist development bursaries are supported by funding from Arts Council England.