April's Creative Coffee will showcase two local creative businesses who will share their journey and work.
Sarah-May Johnson | Artist/Designer/Weaver
Sarah-May Johnson is a Leicestershire artist who carefully handcrafts woven artworks on various table looms in her home studio. She is passionate about experimenting with the limits of the loom to make new structures and create colourful, beautiful and intriguing art pieces that brighten areas from homes to public spaces.
Sarah-May is often inspired by the natural world, expressing this through the colours, patterns and textures in her abstract pieces. She has become increasingly interested in repetition, symmetry and the Fibonacci sequence, and how people instinctively respond positively to such patterns.
Colour is also extremely important to Sarah-May as she develops her pieces, especially the idea that the use of colour in a space or environment can greatly enhance people's moods. Her goal is for her artwork to have a positive impact on people, even if it is on a subconscious level.
Examples of Sara-May's work can be found on her website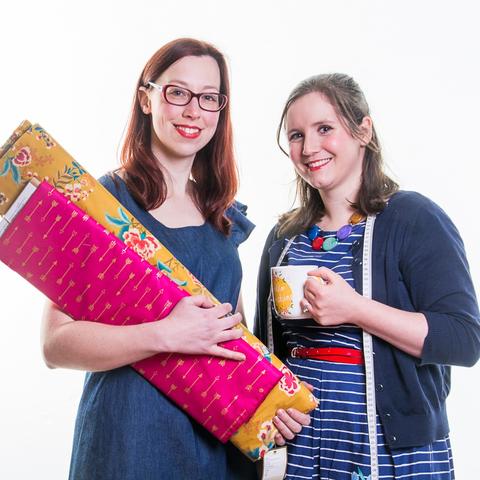 Freya & Sarah | Crafty Sew & So
Crafty Sew & So owners, Freya and Sarah met in 2014 and began discussing their dreams of opening a workshop space and haberdashery shop.
"We opened our Crafty Sew & So retail shop and workshops studio in 2015, to bring a range of handpicked dressmaking fabrics, sewing suppliers and workshops to Leicestershire sewing community.
In 2019 we moved into a creative studio and took our business online offering live online workshops and sewing supplies to sewists across the UK.
Crafty Sew & So aims to inspire everyone to Sew projects they want to make and learn new skills to apply to lots more to come. We are excited to teach sewing skills to all and showcase new and exciting products with a focus on helping you choose the right tools and materials for all your sewing projects."
They will be joining Creative Coffee this month to share how they pivoted the business online and and other changes they've made over the past years to keep going in light of Covid.
The full range of their products including workshops can be found on their website
Sign up for this digital Creative Coffee on Eventbrite
#
About Creative Coffee
Creativity, Coffee and Conversation. We're a free meet-up for creative people and those looking to meet creatives.
We will always offer you a warm welcome and provide you with the chance to build your contacts, exchange ideas and discuss work opportunities in a relaxed, professional environment.
It's friendly and free! Any questions? Let us know, contact hello@creativecoffee.org.uk