Canteen – Leicester's new street food Fridays : amazing street food in our courtyard, Grays cafe-bar open, music to suit the mood.
with Bournville Waffle Co. / Grays / Leave It To Esmie / The Meat Shack
Street Chef / Street Souvlaki / Wallace & Sons / four bars / DJs / comedy
PLUS : Live music and launch of the Handmade Festival (28-30 April):
9pm Dan Nicholas & Ninja Bob
8pm Ella
7pm Sophia Marshall
6pm Michael Vickers
Wristband exchange – swap your Handmade tickets for a wristband, here, 12 noon-10pm on Friday 28 April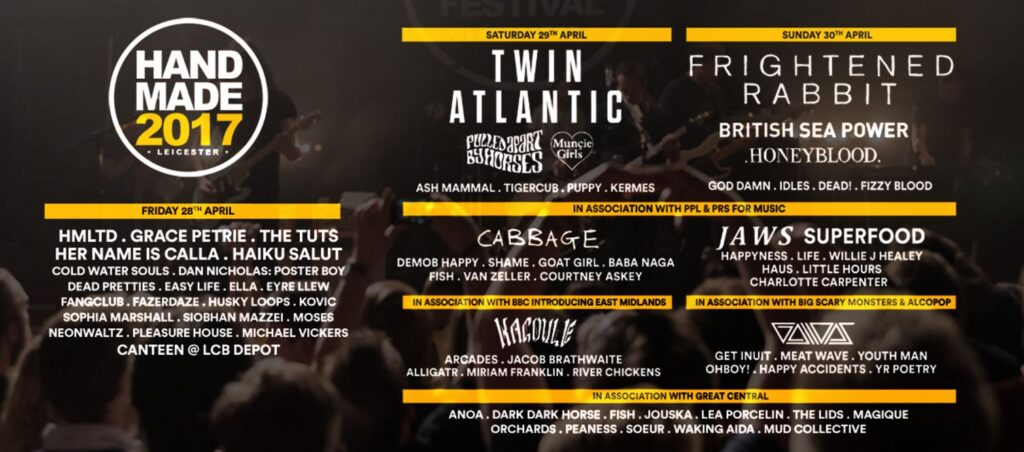 #
Free entry to Canteen, pay for what you eat and drink.
Traders setting up shop on 28 April will be:
Wallace and Sons
Hailing from Manchester, this family run outfit have been knocking out Pan Asian treats and causing a stir for the last two years all over the north of the UK. They specialise in handmade Bao (steamed buns), which they make themselves and serve filled with a variety of slow cooked and sous vide meats. As well as catering for the meatheads they also have excellent vegan options too.
Leave It To Esmie
Visiting us from Birmingham; Esmie is well known throughout the street food scene as serving up some of the best Caribbean food you'll lay your hands on. She sold out at the Canteen pilot event last December and will be coming back this time fully loaded with a special menu of great dishes such as jerk chicken, curried mutton and Caribbean seafood platters!
Street Souvlaki
Michael's family have been in the food trade for decades and over the past few years they have been feeding people in the Midlands their traditional Cypriot dish of Souvlaki. Freshly grilled meats that have been marinating in a secret family recipe passed through the generations. Married with homemade sauces and fresh salad served in authentic pitta. It truly doesn't come more traditional then this. Street Souvlaki is part of Victoria Creperie so we know this is going to be good!
Street Chef
Street chef is about creating unique & innovative tasty street food dishes prepared from scratch and cooked with passion. They have appeared on BBC Great British Food Trip and have been nominated 2 years running for West Midlands most popular street food. Peter and the team are renowned for their take on Halloumi Fries, which they will serving along with other dishes such as Sea Bass Pambazo and Chilli Chicken Beavertails.
Bournville Waffle Company
They were so nice – we booked them twice! The Bournville Waffle Company was founded by Jenny and Des in 2013. Since then they have traded at many of the UK's best festivals and events, selling waffles with unusual toppings from their lovingly-restored and converted Mustang caravan. All the waffles are baked fresh to order and their menu is playful and creative. Without doubt one of our favourite dessert vendors! They bring a new menu with them and an exclusive dish of the waffle monster.
The Meat Shack
Where do we start? We are extremely proud to bring to Canteen one of our street food heroes. Paul Collis and his team started out at Digbeth Dining Club in Birmingham right at the beginning and that was where we first had a taste of one of their amazing burgers. Since then they have only gone from strength to strength with people travelling for miles to get a piece of this juicy glory. Only using the best cuts of dry aged local beef, coupled with the best unique buns and toppings/sauces – we can truly say these are some of the best burgers you will have. We welcome with open arms – The Meat Shack. Please note all burgers are cooked fresh to order and therefore there are a few minutes waiting time – but believe us that they are worth the wait!
Grays
Based in LCB Depot and now The Cookie; Grahame and the team have been bringing fresh seasonal food to Leicester since 2013. Canteen gives Grays the chance to do extra special dishes that normally wouldn't feature on their usual menus, perfectly complementing the other traders. This month they celebrate "Best of British"
Don't forget that there'll be a fantastic drinks selection at the event too with a brand new cocktail pop up bar in the courtyard. Bringing some of the UK's most influential bartenders to the Leicester, this month we welcome Stephen Pennack (former Head Bartender at London's Zetter Townhouse, 69 Colebroke Row and Bar Termini) as he shakes up some of his finest creations for the Canteen crowd.
#
PLUS CANTEEN COMEDY!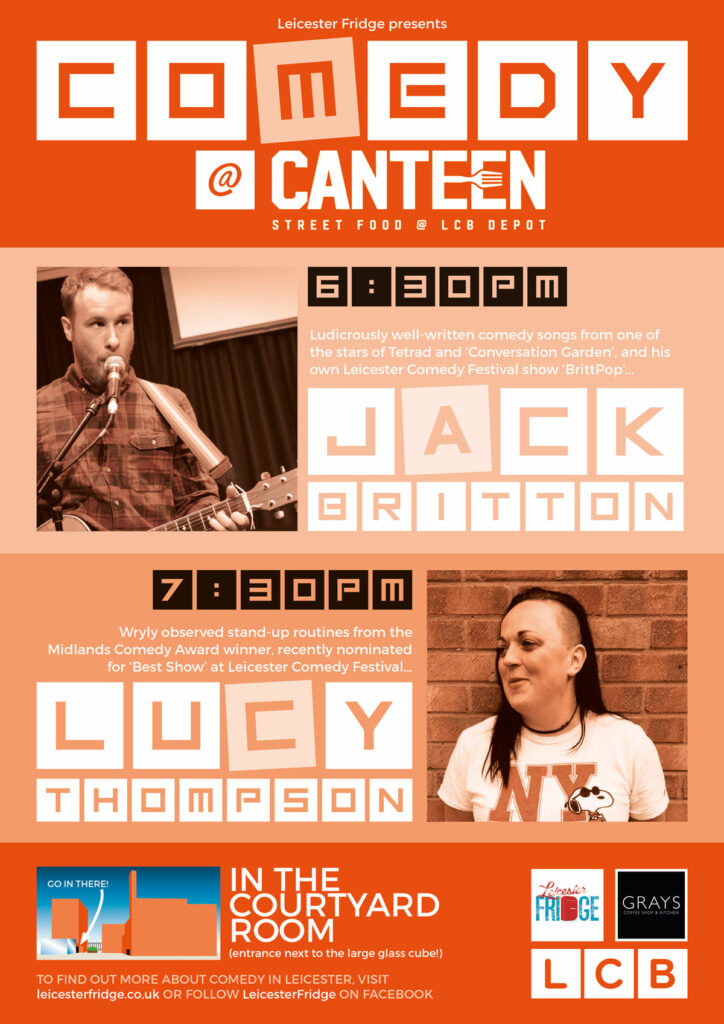 Tell us you're coming and invite your friends on Facebook