Canteen – Leicester's street food event on the last Friday each month… amazing street food in our courtyard ; plus bars, art and music.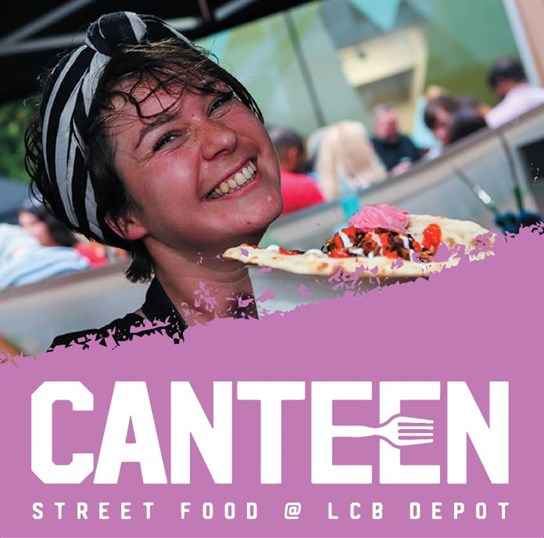 Details of food vendors, menus and music/comedy/art on the night coming soon!
What a set of tasty traders we have lined up – here's what our partners CanteenUK say:
Low 'N' Slow
We have known Andy and Donna since they first started out in Birmingham and have watched them knock out some the best BBQ food we've tasted. They have been going for 4 years in which time they have been finalists in the YBF awards two years in a row and have recently been flexing their grill skills at Meatopia. They pride themselves on sourcing the best British meat they can find and only using rare breeds. Customers rave about their Ribs, their 18hr Smoked Pulled Pork and their famous Tacos. They will also have a special dish on the menu which you just cannot miss!
Homeboys
These Asian food specialists are back! One of the customer favourites! Homeboys is the food truck from Masterchef finalist Pete Hewitt, serving up Asian inspired street food out of a 1978 Grumman Olson Step van. Expect the best Asian specialities and some surprises on the night. Trust us when we say you dont want to miss this special!
Wallace and Sons
Another Canteen customer favourite! Hailing from Manchester, this family run outfit have been knocking out Pan Asian treats and causing a stir for the last two years all over the north of the UK. They specialise in handmade Bao (steamed buns). They make the buns themselves and serve them filled with a variety of slow cooked and sous vide meats. As well as catering for the meatheads they also have excellent Vegan options too. We welcome them back to Leicester!
Leave it to Esmie
Hailing from Birmingham, Esmie is well known throughout the street food scene as serving up some of the best Carribean food you'll lay your hands on. We have also known her for as long as we can remember and its high time she graced us back at Canteen!
.
FAT SNAGS
Continuing our series of finding the UKs best hot dog we have another Canteen debut. Fat Snags is the brainchild of Richard Newman. They have only one goal – to make the best damn hot dog you have ever tasted!
Sourcing the finest local ingredients and using sausages that are custom made by AW Lashfords in Birmingham which are then cooked in beer from Purity brewing co. and finished off over an open flame grill. Add to that a plethora of homemade toppings and we can say that we are really excited for this!
Ginger's Comfort Emporium
Making their debut at Canteen – incredibly delicious, award winning, hand-made, real dairy ice cream, sorbets and vegan ice cream! Concieved in 2009 as a way to bring gourmet ice cream flavours to the streets, they specialise in the unusual. Camel milk, absinthe, marmalade on toast, treacle tart & limoncello, malted coconut milk… and their pure origin chocolate, vanilla and salted caramel & peanut butter are firm staples. Their ice cream recipe book, MELT was published by Simon & Schuster in 2013. In the past they also won best of the best at the British Street Food Awards, and best dessert 3 years running.
See the menus at Cool As Leicester
#
1901 – The Turkey Cafe will be taking over the Boutique Bar at the event with amazing cocktails and alcoholic slushies.
#
Music! DJs @MrHickford @JazzShambles Craig Davids and Ninja Bob plus special guest Gary Sambell joining with live percussion Conga and Djembe drums to complement the tunes!
#
Comedy with quirky stand-up Steve Bugeja at 8.15pm
#
It's an event on Facebook – check it out
#
Free entry, pay for what you eat and drink.