This month we're highlighting music technology, sound, audio visual, generative art.
The exhibition will feature​ work from established artists, as well as new talent, based in Leicester.
Exhibitions and events will be online via social media @lcbdepot and in the real world across our exhibition spaces. If visiting in real life please respect current Covid guidelines.
Events

Weds 9th- 6-8pm Evening viewing Join the artists for the launch of the show and as part of the of the 8-bit exhibition, short talks from Micro Arts founder Geoff Davis and exhibition curator Sean Clark from the Computer Arts Archive. You will need to wear a facemask in the gallery. Talks start at 7pm. Grays Cafe Bar will be open for drinks in the courtyard.
Thu 17 – Sun 20 June Only Expansion from Phoenix. An 'augmented audio' walk through Leicester that seamlessly remixes the sounds of the city in real time to evoke the future impacts of the climate crisis. To experience Only Expansion, book a start time using the link below. Slots are available between 2-8pm on Thu & Fri, and 10am-5pm on Sat & Sun. You'll begin the walk at Phoenix (NOT LCB Depot), where you'll be provided with the audio kit and guidebook. Find out more here
Weds 23 June, 6pm – screen_share has been cancelled 🙁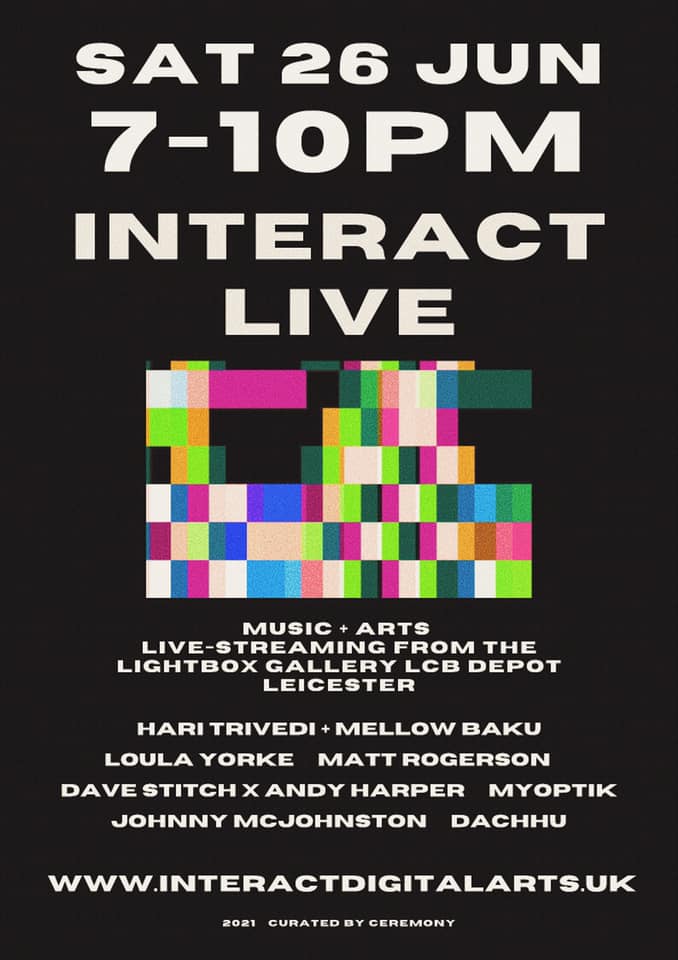 Sat 26 June Interact Live Interact Digital Arts presents
2-5pm drop-in to meet the artists/curators
7-10pm live music and visuals from Hari Trivedi + Mellow Baku, Loula Yorke, Matt Rogerson, Dave Stitch x Andy Harper, Myoptik, Johnny McJohnston, &  Dachhu. Watch the live stream via youtube- more info hereExhibition see more at #audiovisual on Instagram
http://lightwidget.com/widgets/80c42c2ae97a5752843e5078645902a4.html
*banner image credit Leonie Dubarry-Gurr
Featured Artists
Interact Labs presents 8-bit: Classic computer art from the 1980s, from Micro Arts Group
Duncan Speakman
Shawn Lourdes + Martin Cibik
Phoenix
Virtual Ground £1,000,000
Scrounging Sound £1,000,000
Jacob Braslawsce £35 per sculpture, 9 sculptures
Sam Topley £25, samtopley.etsy.com
JamesWest
Asher Arnon
Sebastiano Gualtieri
Aleksander Kaczmarek
Mick Ryan, Imogen Cavell-Wells, Lauren Harvey, £300