MAKERS YARD ENQUIRIES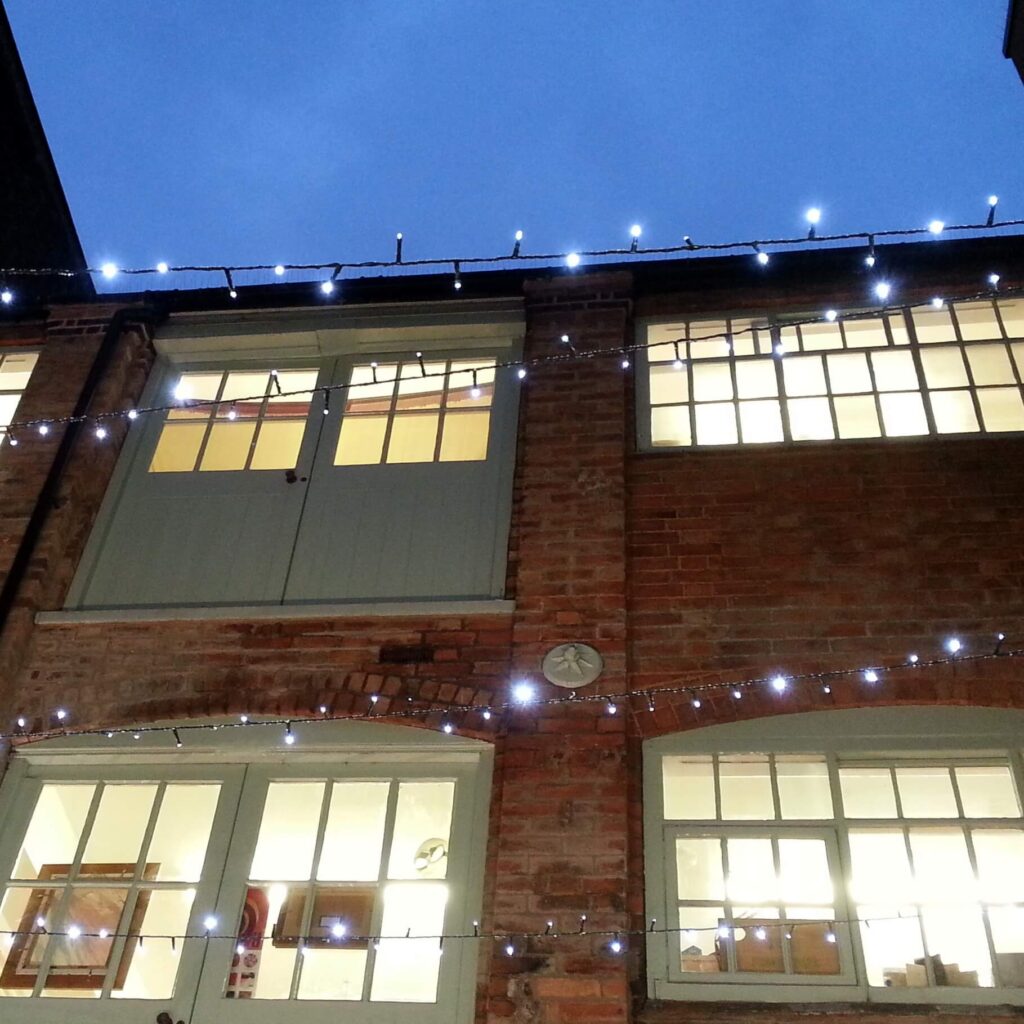 Makers' Yard is on the same side of Rutland Street as Curve theatre, just two doors along as you go towards Humberstone Gate.
Makers' Yard is not normally open to the public, except by invitation of the designer-makers who have studios in the building, and on Open Studios/Festival/Shopping event days.
Location What three Word

Makers' Yard is managed by the team at LCB Depot at 31 Rutland Street, Leicester LE1 1RE
Tel 0116 261 6800 email info@lcbdepot.co.uk
At the main entrance gate to Makers' Yard is an intercom where you can buzz to contact the artists/makers in their studio. Otherwise, see the Who's Here directory of makers at Makers Yard to see ways of contacting them directly, or contact LCB Depot (100 yards back along Rutland Street).

Driving/delivering to Makers' Yard

Rutland Street is one-way, South to North, at Makers' Yard.
From Humberstone Road turn into either Morledge Street or Wimbledon Street, and at the end turn left (only) into Southampton Street, right into St George Street and right again into Queen Street (Leicester Print Workshop is on your right).Go to the end of Queen Street and go round Athena (former 1930s cinema) on your right and past Curve on your left. Makers' Yard is on your left two doors past Curve.
From St George's Way driving North away from the train station, turn left into Queen Street, go to the end and round past Athena on your right, into Rutland Street and past Curve on your left.


Parking near Makers' Yard
A pay and display car park is available next to Phoenix (entrance on Burton Street LE1 1TE). Parking costs £1 (up to one hour), £3 (1-3 hours), £4 (3-4 hours), £6 (4-6 hours), £8 (6-9 hours) and £9 (9-12 hours), between 6am and 6pm Monday to Saturday. Evening parking here Mon-Sat 6pm to 6am costs a flat rate of £2 ; on Sundays and Bank Holidays there is a £1 charge and a maximum stay of four hours.
There is a 40-space Pay & Display car park in Queen Street behind Athena (enter through the old Leicestershire Butchers Hide, Skin & Fat Company arch) charging (for example) £1.90 for 3 hours and £4.60 for 6 hours 6.30am-6.30pm, and £2.50 after 6.30pm, Monday to Sunday.
A private car park has opened on Southampton Street. It is open from Mon-Sat 7am – 7pm and on Sundays from 10am – 5pm. It costs £1 per hour, up to £5 all day. It is attendant operated and only takes cash payment.
NCP runs multistorey car parks in nearby Halford Street (NCP Rutland Centre, next to Curve) and at Lee Circle. NCP Rutland Centre parking charges (Oct 2021) are : up to 1 hour £3.50 / 1-2 hours £7 / 2-3 hours £10.50 / 3-4 hours £14 / 4-5 hours £17.50 / 5-6 hours £21 / 6-24 hours £24.50; the normal Lee Circle charge is £3.50 for 24 hours in the multistorey / different charges apply in its outside ground floor car park : 1 hr £1.80 / 2 hrs £2.80 / 3 hrs £3.80 / 24 hrs £8.80.
On-street meter parking is available in the Cultural Quarter – on Saturdays 6am to 6pm £1 for up to 1 hour / £3 for up to 2 hours (£2 for up to 3 hours in some outer streets), free between 6pm and 6am. On Sundays on-street meter parking here is either free or £1 for up to 3 hours. Check prices, times and days on the meter.
Makers' Yard is within 10 minutes' walk of Leicester train station, St Margaret's & Haymarket bus stations, and most city centre bus stops.
There are cycle parking racks in the Makers' Yard courtyard.
MAKERS YARD
Makers Yard
82-86 Rutland Street, Leicester LE1 1SB
Twitter: @makersyard
Facebook